2033 Union Pacific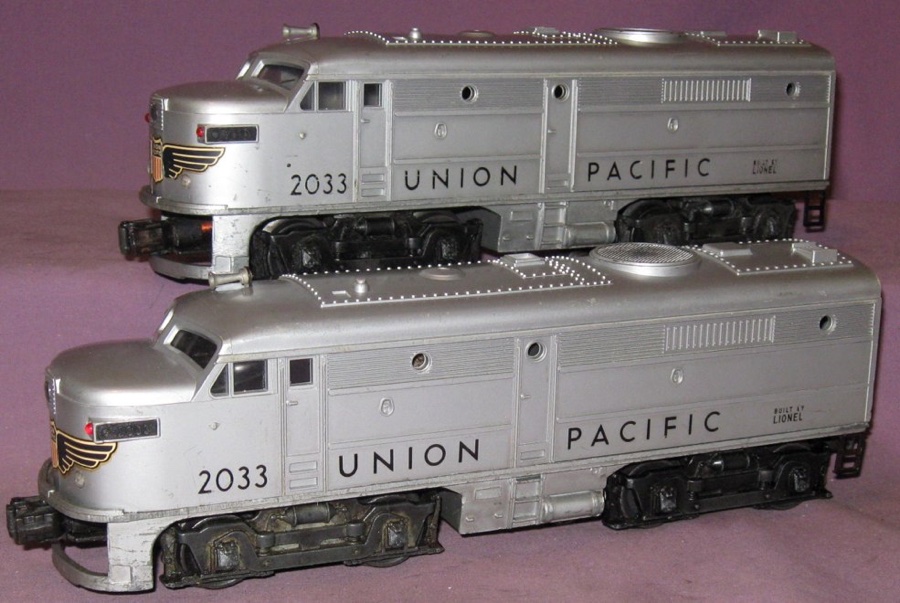 Production: 1952 - 1954
History
Except for a minor change to the shell mold, the 2033 Union Pacific ran unchanged for three years. These early Alcos -- those produced from 1950 until 1954 -- are quality engines with many desired features. All early series Alcos remain in demand today.
The 2033 Union Pacific AA units are similar to the 2023 Union Pacific Alco AA diesels from 1951. The only difference being the exterior paint scheme. The 2033 does not have a dark gray roof or thin black stripes found on the 2023s.
Features
Standard features of the 2033 include: silver painted body with black lettering, die-cast frame, two-axle Magnetraction, three-position E-unit, headlight in each unit, horn and operating front couplers on each unit with non-operating rear couplers. Other extras include a silver ornamental horn on each unit, headlight and windshield lens, rear metal step ladders plus illuminated number boards with the number 2033 printed in the lens.
Additional Detail, Photos & Box Information
Dime-Sized Raised Dimple on Roof - Shown in the photo above - For 1953 and 1954, Lionel added a slightly raised dimple -- approximately the size of a dime -- to the top of the shell, directly above the motor. The raised dimple significantly reduced the warpage problem commonly seen on the flat roof versions. The raised dimple roof were produced in 1953 and 1954.
Flat Roof above Motor - Early production, assumed to be 1952. The flat roof versions are slightly harder to locate. Also, these versions have a tendancy to have their roof-line warp due to the heat of the motor.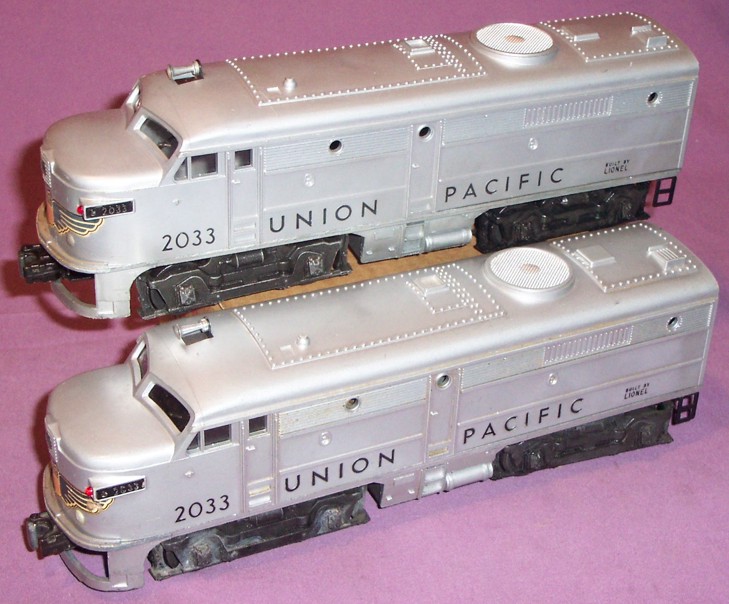 This site brought to you by:

Click on their logo to view high quality postwar Lionel trains for sale