448 Missile Firing Range Set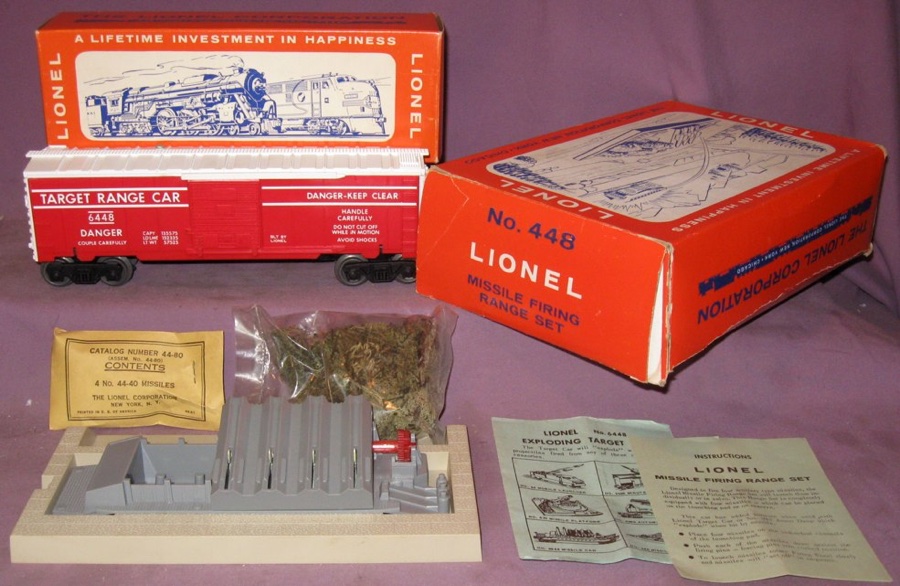 Production: 1961 - 1963
History
The 448 Missile Firing Range Set is an interesting accessory that included components from several other Lionel products. These 'borrowed' parts include; a launching station, exploding box car, missiles and camouflage shrubbery. To the credit of the Lionel engineering department, this accessory only required one new part: the base of the firing range, all other components were existing items in the Lionel product line.
With the numerous items included in this set, it is common to find partial or incomplete sets. Original shrubbery is rare and locating all of the remaining components intact and undamaged is difficult. Even the original boxes are scarce.
Although catalogued for three years, it is believed Lionel produced this accessory only in 1961 and catalogued the accessory for an additional two years in an effort to sell remaining inventory.
Features
The 448 Missile Firing Range set included the following standard features: tan and gray launching station, four white missiles, simulated shrubbery and a 6448 exploding box car packaged in its own box.
Additional Detail, Photos & Box Information
Only Known Variation - Shown in the photo above - All 448 Missile Firing Range sets included the firing base, exploding box car, missiles and simulated shrubbery.
This site brought to you by:

Click on their logo to view high quality postwar Lionel trains for sale