456 Coal Ramp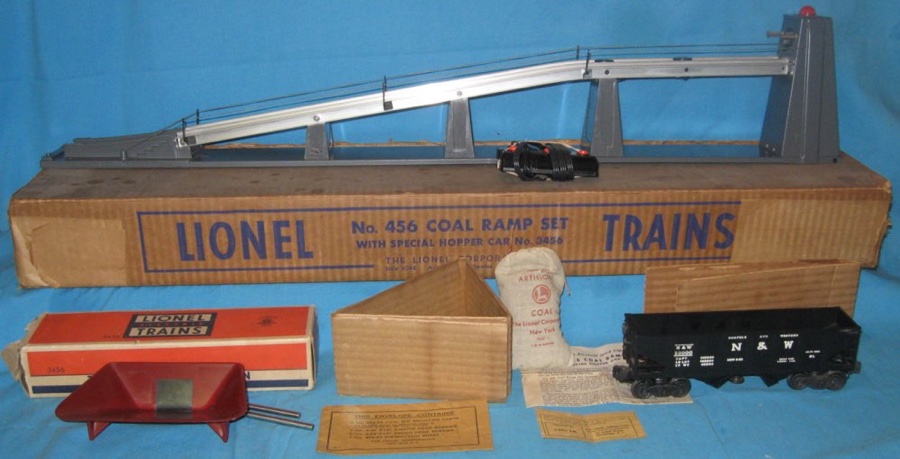 Production: 1950 - 1955
History
The 456 Coal Ramp is an impressive accessory. At nearly 35" long, it required a fair amount of room on any layout. And when used in conjunction with the 397 Coal Loader, both of these accessories required an enormous amount of real estate on any layout!
The Coal Ramp was designed to be used with a specially built 3456 N & W Hopper. This hopper is based upon the standard 6456 Lionel hopper, but included an operating center section. This operating section permitted coal to be unloaded from the hopper, just as the real hoppers were unloaded in the 1950s.
Features
Standard features of the 456 include: metal base with metal supports, two track rails leading from the bottom to the top, operating coupler at the top, red light and an unloading and uncoupling magnet mounted inbetween the rails near the top.
A 3456 operating hopper was always included with the accessory. Additionally, a red bin was included which is designed to be placed underneath the highest section of the track. A newly-designed three button controller was included with the accessory.
Additional Detail, Photos & Box Information
Dark Gray Structure - Shown in the photo above - Assumed to be 1950 production. This is much harder to locate than the light gray version.
Light Gray Structure - Produced from 1951 until 1955. This is the common version.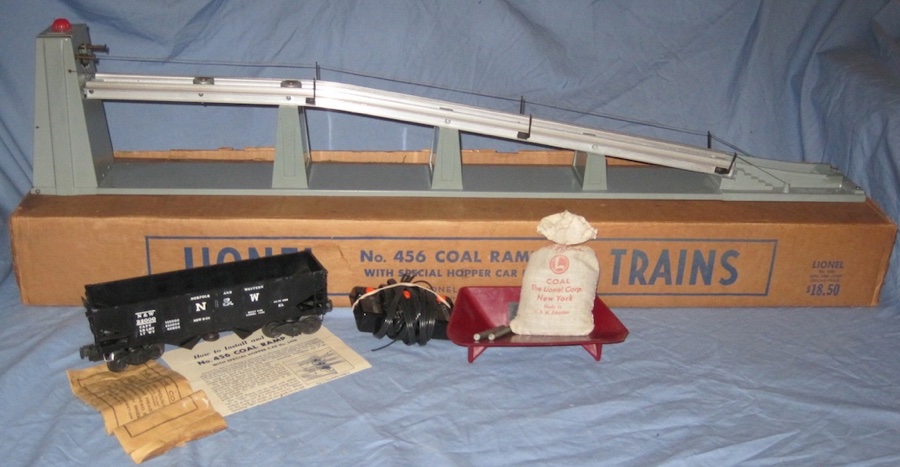 This site brought to you by:

Click on their logo to view high quality postwar Lionel trains for sale