462 Derrick Platform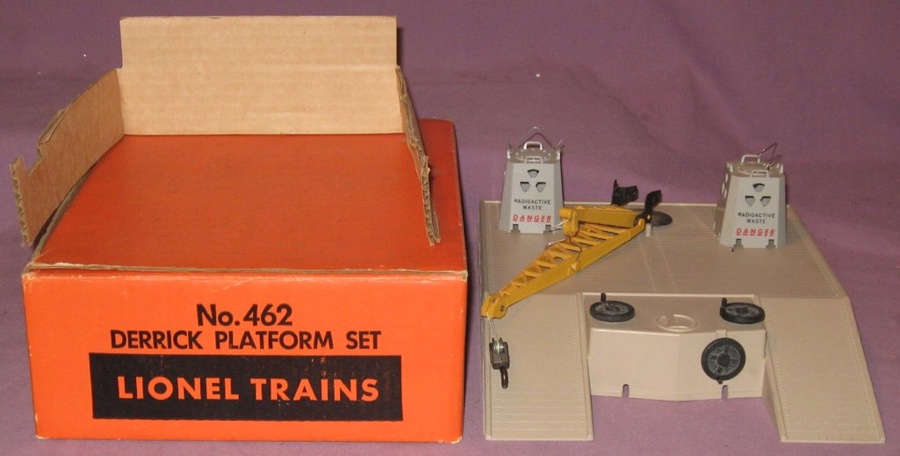 Production: 1961
History
The 462 Derrick Platform Set is a great example of Lionel's engineering department using their creativity to design a brand new accessory based upon existing parts from other Lionel items. In the case of the 462, Lionel used parts from at least three other items to create a brand new accessory. Those items are:
Canisters from the 6805 Radioactive Waste Flatcar.

Boom from the 6660 Flatcar with Boom

Platform from the 460 Piggyback Transport Set
The Derrick Platform set is a manual-intensive accessory and lacks much of the excitement accompanying Lionel's electrically operated accessories. When introduced by Lionel in 1961 it was a low-budget accessory and did not sell well. Due to poor sales, it was discontinued in the same year it was manufactured. However, in an effort to sell remaining inventory, it was also catalogued in 1962.
Locating a complete and intact set is very difficult. In addition to very low production numbers, this accessory contains several fragile pieces. Many original canisters are either completely missing or have broken top handles.
Features
The 462 Derrick Platform set has the following standard features: gray plastic base, yellow boom assembly, two gray canisters and three die-cast manually operated levers on the base.
Additional Detail, Photos & Box Information
The only variation on the 460 Piggyback Transportation set involves the type of lettering found on the red tractor.
Only Known Variation - Shown in the photo above - All 462's have a gray base with three die-cast levers and two removable canisters.
This site brought to you by:

Click on their logo to view high quality postwar Lionel trains for sale