464 Lumber Mill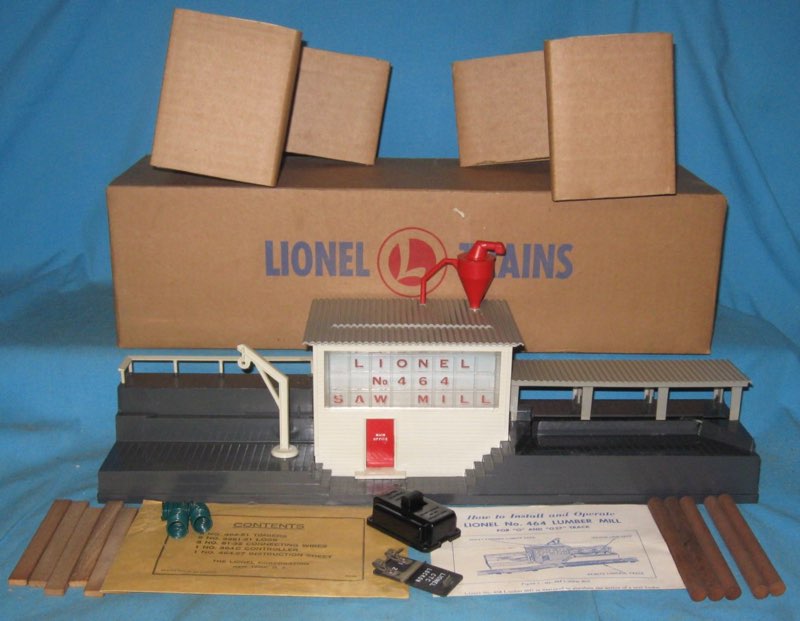 Production: 1956 - 1960
History
The 464 Lumber Mill was an innovative and creative accessory which incorporated the popular log dump cars Lionel had been manufacturing since the beginning of the postwar era. Unlike prior log related accessories which simply moved logs, the Lumber Mill simulated the production of lumber from the traditional Lionel logs -- which was quite creative for the mid-1950's!
Features
The 464 Lumber Mill includes the following standard features: metal base, white center sawmill building, dark gray side platforms with white accents, light gray roofs plus a red dust collector mounted on the center building.

Also included with the accessory were five logs, five pieces of lumber, a 364C controller, coiled wire plus instructions -- all included in the packing envelope for the Lumber Mill.

Additional Detail, Photos & Box Information
There are slight variations to the gray side platforms, none of them having an impact to the value. The only item usually missing or broken is the top red dust collector. Original, undamaged dust collectors will slightly increase its value.
Finally, the base of the Lumber Mill approximately 16.5" long by 6" wide.
Only Known Variation - Shown in the photo above - The Lumber Mill ran unchanged for the entire five year production run.

This site brought to you by:

Click on their logo to view high quality postwar Lionel trains for sale