1045 Operating Watchman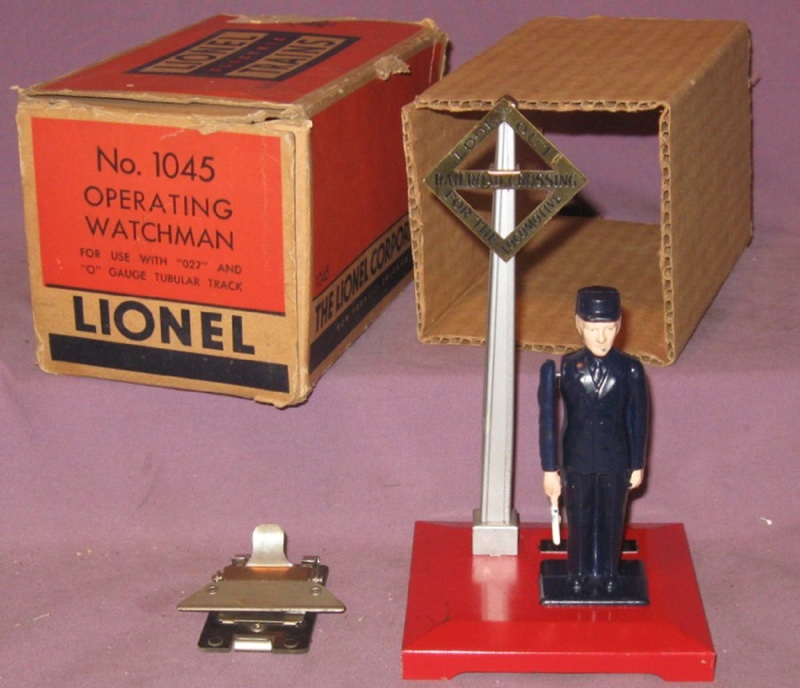 Production: 1945 - 1950
History
The 1045 Operating Watchman -- more commonly known as the Operating Flagman -- was originally produced by Lionel during the prewar era. This accessory was re-introduced in 1945 and remained in production until 1950. Although the height of the watchman is more suited for prewar standard gauge trains (he's an amazing 16 scale feet tall in O gauge height!), it remains a popular accessory for postwar O and 027 gauge collectors and operators.
The watchman is a fragile accessory. Frequently, the watchman's arm or flag is either damaged or totally missing.
Features
The 1045 Operating Watchman has the following standard features: red sheet-metal base, blue Bakelite man plus a brass, diamond-shaped crossing sign with black lettering sitting on top of a silver post.
This is an on-off type accessory. Lionel created a unique 1045C track activator for this accessory.
Additional Detail, Photos & Box Information
There are several variations to the original box -- for both the prewar and postwar version. As for the actual accessory, all postwar version are just as described above.
Only Known Variation - Shown in the photo above - All postwar versions have a red sheet-metal base with a blue Bakelite man.
This site brought to you by:

Click on their logo to view high quality postwar Lionel trains for sale