114 Newsstand with Horn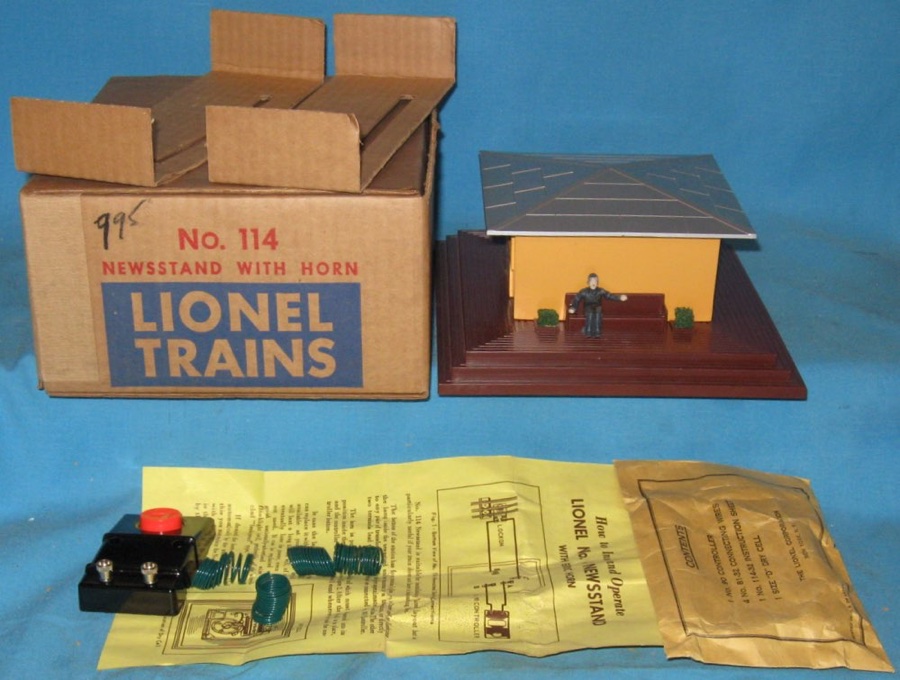 Production: 1957 - 1959
History
The 114 Newsstand with diesel horn, along with its cousin the 118 Newsstand with steam whistle, are nice, compact buildings suitable for almost any layout. Although each of them lack animation found on earlier postwar accessories, the interior whistle or horn is popular with many layout operators.
Externally, the size of the 114 an 118 Newsstands are identical. Except for the exterior colors and type of interior horn, this was another classic example of Lionel engineers reusing the same parts to create two different and interesting accessories.
Experienced collectors believe the 114 Newsstand was only manufactured in 1957 with excess inventory catalogued and sold in both 1958 and 1959. The 114 Newsstand is a somewhat hard accessory to find, especially in complete condition. Usually one (or more) of the small window inserts are either missing or damaged as well as the simulated green shrubbery next to the bench. Locating a complete, undamaged building will require some patience and time.
Features
The 114 Newsstand has the following standard features: brown molded base, mustard-colored exterior, silver roof plus window inserts and a man seated on the bench.
Proper operation of this accessory requires the installation of a 1.5 volt D battery controlled by a 90C controller.
Additional Detail, Photos & Box Information
The base of this accessory measures 7 inches x 8 inches and is just over 3 inches tall.
Only Known Variation - All 114 Newsstands have a brown base with mustard-colored sides and a silver roof.
This site brought to you by:

Click on their logo to view high quality postwar Lionel trains for sale