153 Block Signal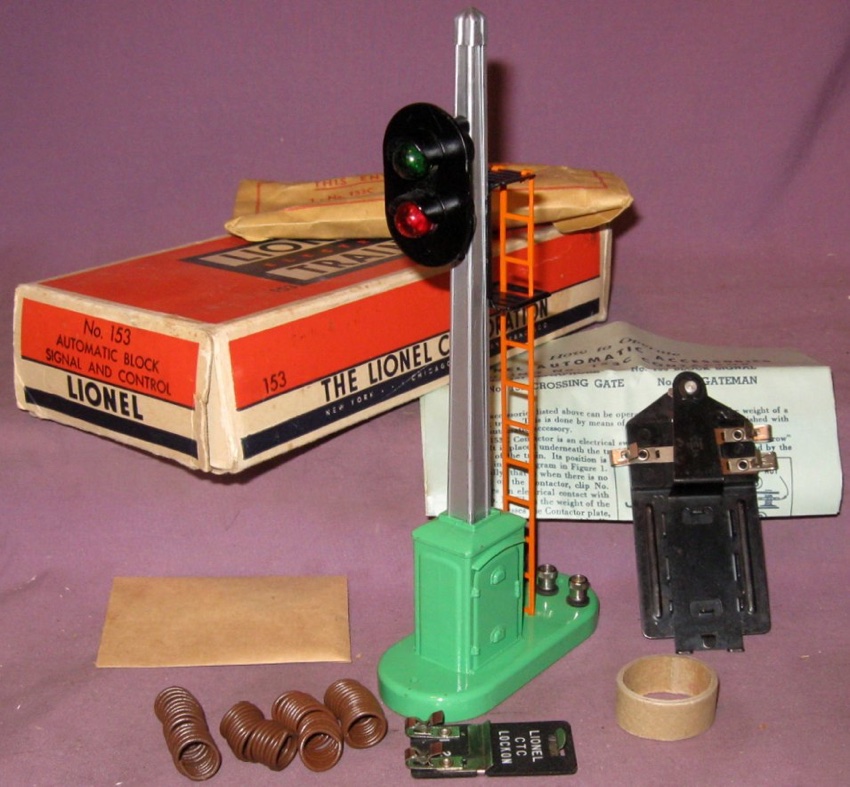 Production: 1945 - 1959
History
The 153 Block Signal was a carryover trackside accessory from Lionel's prewar era. Originally produced between 1940 and 1942, Lionel resumed production of this signal in 1945 immediately after the end of World War II. The Block Signal remained basically unchanged from 1945 until its final year of production, 1959. It is a common item to locate.
Features
Features of the 153 Block Signal include: green painted base, silver pole and a black signal base at the top of the pole with a red and green bulb. Lionel always included a 153C track activator as the standard activator for this accessory.
Additional Detail, Photos & Box Information
Throughout its 15 years of production, there were minor variations to the 153. They include:
Green Base - Shown in the photo above - This is the common production version.
Light Bulb Base - All 153s produced from 1945 until 1949 use a screw-in 6 or 8 volt lightbulb. Beginning in 1950, the accessory was changed to use 12 to 16 volt lightbulbs with a bayonet base. The screw-in bulb versions ofthe 153 Block Signal are slightly harder to locate.
Aluminum Pole - For the 1957 only, there was a small production run where the 153 had an aluminum pole, not the common steel pole. The aluminum pole version is difficult to locate.
This site brought to you by:

Click on their logo to view high quality postwar Lionel trains for sale