192 Railroad Control Tower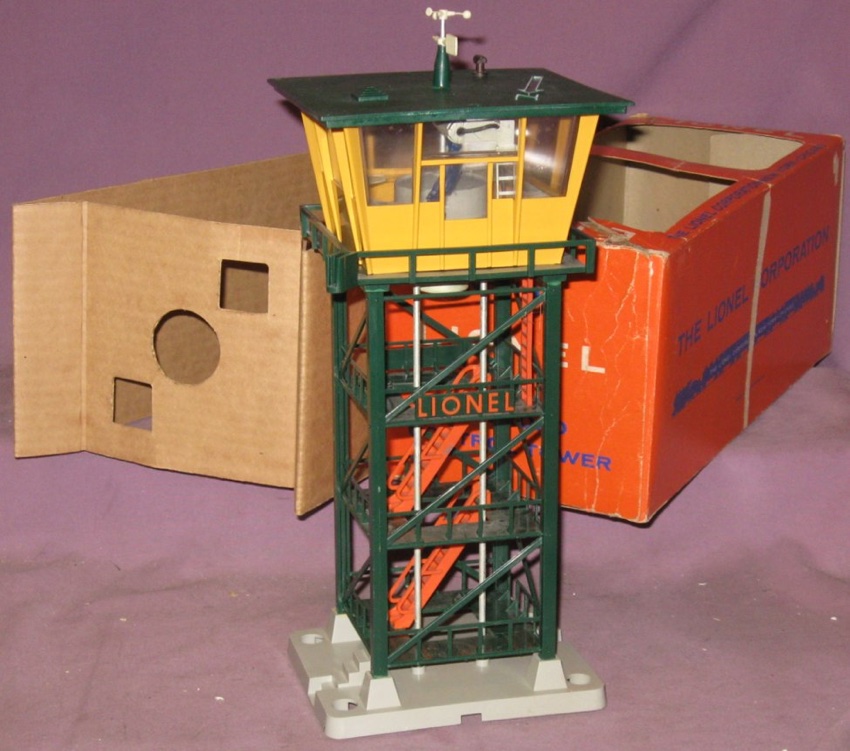 Production: 1959 & 1960
History
In 1959 Lionel introduced an updated and redesigned accessory based upon the 197 Rotating Radar Tower: the # 192 Railroad Control Tower. During the middle part of the 1900's, railroad control towers were constructed to oversee and monitor large freight yards. Lionel's example is an excellent representation of a generic control tower from the era of the 1950's.
Although this accessory was catalogued for two years, experienced collectors believe the tower was only produced for a single run, probably late 1959 into the early part of 1960. During this single production run, volumes were low and coupled with its fragility, this accessory has become extremely difficult to locate in collector condition. Additionally, its original box was flimsy and rare to find these days. Nice, clean collector examples will command a significant premium.
Lastly, due to the light bulb being very close to the roof, it is common to find deformed or indented areas on the roof above the lightbulb. Undamaged roofs are rare.
Features
The 192 Railroad Control Tower includes the following standard features: gray plastic base, green superstructure, yellow building and a green roof with white anemometer and weather vane on top.
Additional Detail, Photos & Box Information
Only Known Variation - Due to the limited production run, there are no known variations to this accessory.
This site brought to you by:

Click on their logo to view high quality postwar Lionel trains for sale