30 Water Tower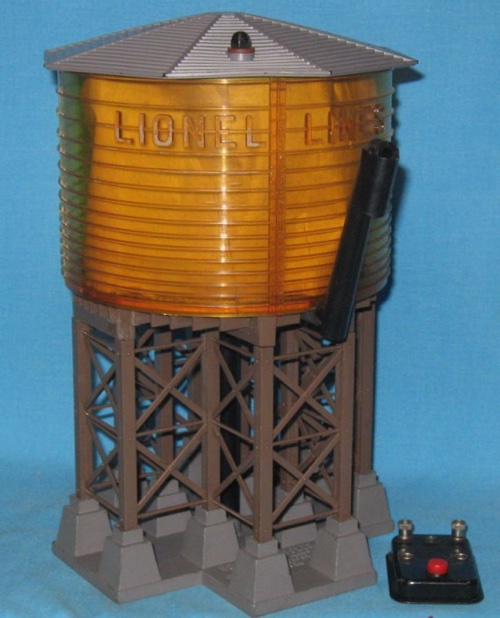 Production 1947 - 1950
History
The 30 Water Tower is an superb model of a real-life water tower frequently seen in the United States in the 1940's. It's size and detail are scale-like and many layout builders use this accessory near their freight yard.
This water tower is a modified version of the earlier # 38 Pumping Water Tower. The # 30 does include the operating spout -- which can be raised or lowered -- but does not include the pump or components to hold real water inside of the water tank.
Features
The 30 Water Tower has the following standard features: gray die-cast base, brown or black plastic tank support trestles, amber-colored see-through tank and a plastic roof. The water spout is a two piece plastic item glued together with a metal shield attached to the end.
The roof was available in either gray, brown or red. However, there is some question as to the originality of a red roof. Many believe the red roof was not available on the # 30 and versions having a red roof are simply a roof which was leftover inventory from the # 38 tower.
This accessory is an on-off type accessory and controlled by Lionel's 96C controller.
Additional Detail, Photos & Box Information
Brown Support Trestles - Shown in the photo above - The brown support trestles are more common than the black trestles. This version was available with any of the different color roofs.
Black Support Trestles - Less common than the brown version and also available with any of the three roof colors.
This site brought to you by:

Click on their logo to view high quality postwar Lionel trains for sale