6517 Bay Window

Production: 1955 - 1959 & 1966
History
The 6517 is a common item manufactured in the late 1950's and was Lionel's top-of-the-line caboose for their O gauge line. Based upon looks, the bay window caboose was a radical change from the standard cabooses in the Lionel family. This change was well received by the train community as it remained in production for five years along with a brief appearance in 1966.
For the first five years, the bay window caboose was produced with Lionel Lines as the roadname. When the caboose was re-introduced for a single year (1966), it worn the Erie roadname on its sides. The Erie version is a desireable caboose and very difficult to locate. This is also the only postwar caboose to ever have the Erie roadname.
Features
The 6517 standard features did not change during the entire production cycle. They include: red painted body with white lettering, dual operating couplers, 027 gauge passenger car trucks, dual ladders, end-railings, illumination plus a small smokestack and center window shades.
Additional Detail, Photos & Box Information
The only variation to the Lionel Lines version involves the lettering. There is a version with the 'BLT 12/55' and 'Lionel' underscored. This variation is harder to find that the version without the underscoring.
Lionel Lines - No Underscore - Shown in the photo above - The common version.
Lionel Lines - Underscored - A much harder version to locate is the caboose with 'BLT 12-55' and 'Lionel' underscored. Exact production dates are unknown.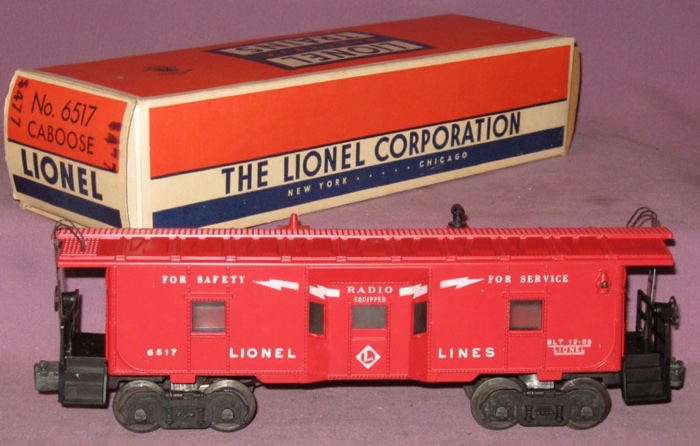 Erie - A one-year-only item from 1966 and rare.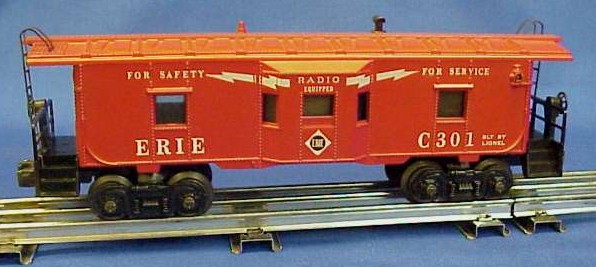 This site brought to you by:

Click on their logo to view high quality postwar Lionel trains for sale