2457 Pennsylvania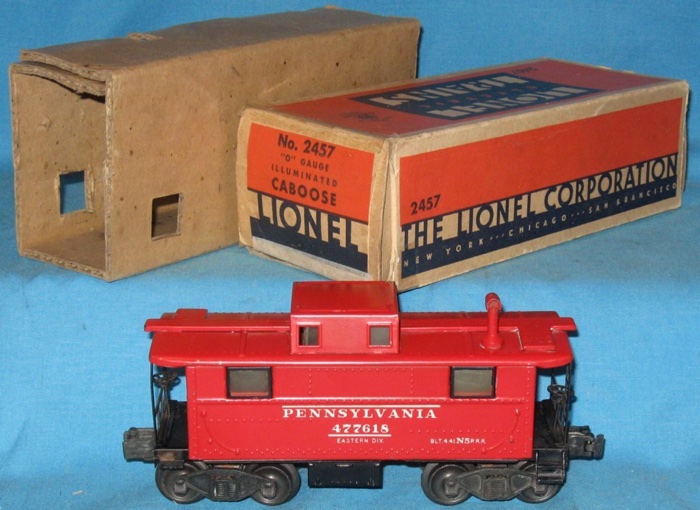 Production: 1945 - 1947
History
The 2457 was a carry-over tin-plate caboose design from Lionel's prewar era. This caboose -- and its cousin, the non-lighted 2472 -- were the only cabooses available from Lionel during the first few years of postwar production.
Although the 2457 has a definate toy-like appearance, there remains a special charm and attraction to these items. Even today, there are individuals who have focused their collecting efforts on Lionels initial postwar production years -- generally defined as 1945 to 1949.
Features
The 2457 is a nice caboose with extra detail. Standard features include: painted brown or red bodies with white lettering, staple-end trucks with either a single or dual operating coil couplers, interior lighting, metal end railings, ladder and brakewheel at each end plus a battery box, plastic air pump and corner steps.
The actual number on the side of the caboose is '477618', while Lionels catalogue number '2457' number is rubber-stamped on the bottom frame.
Additional Detail, Photos & Box Information
It is assumed the brown version was produced in 1945 and always include the Eastern Div. lettering on the sides. The red version is assumed to have been produced in 1946 and 1947 and available with and without the Eastern Div. lettering.
Brown, with 'Eastern Div.' - The hardest 2457 to locate, truly a rare caboose.
Red, with 'Eastern Div.' - Shown in the photo above - The most common version.
Red, without 'Eastern Div.' - A somewhat hard caboose to locate.
This site brought to you by:

Click on their logo to view high quality postwar Lionel trains for sale