6427 N5C Caboose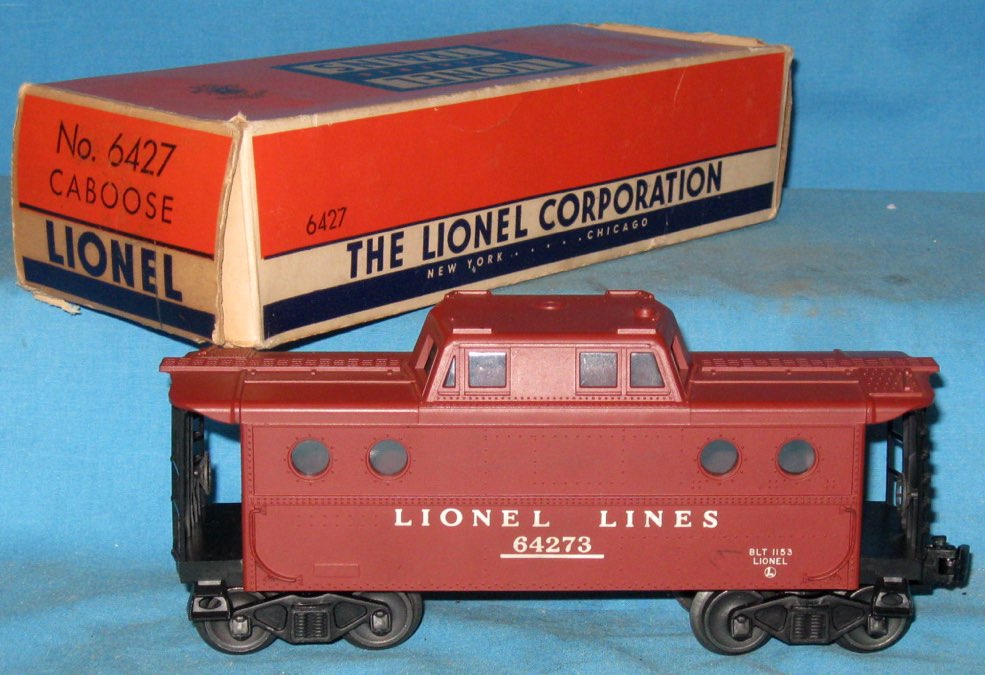 Production: 1954 - 1960
History
The 6427 caboose was Lionel's second N5C caboose and became a standard offering in the Lionel family for the second half of the 1950s. It is primarily found in the Lionel Lines roadname -- however, two other versions exist: the Pennsylvania and Virginian.
Both the Pennsylvania and Virginian are among the rarest Lionel cabooses produced in the postwar era. The Pennsylvania (Lionel's catalogue # 6427-500) was included in the infamous Girls set of 1957 and 1958. The Virginian (Lionel's catalogue # 6427-60) was a one-year only item from 1958. Both were produced in small quantities and are extremely difficult to find.
Features
The 6427 caboose is an accurate representation of Pennsylvania's class N5C caboose with excellent detail. Standard features of the Lionel Lines version include: painted Tuscan bodies with white lettering, illumination, bar-end trucks with a single operating coupler, metal brakewheels, plastic end railing detail and roof ladders. The actual number on the sides of the caboose is '64273.'
The Pennsylvania version differs from the above explanation in that it is painted sky-blue with the number '576427' on the side. The Virginian is painted dark blue with yellow lettering and numbered '6427.'
Additional Detail, Photos & Box Information
The Lionel Lines caboose is a common caboose while both the Pennsylvania and Virginian are rare items. The length of this caboose is approximately 7 3/4" long (coupler to end).
6427; Lionel Lines - Shown in the photo above - The common version.
6427-60; Virginian - A very hard caboose to locate as few were produced in its single year -- 1958.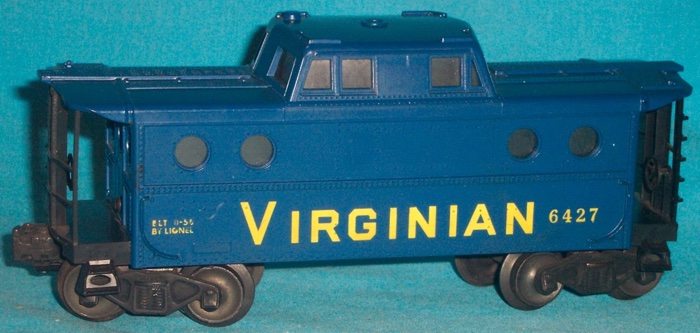 6427-500; Pennsylvania - Part of the Girls Set and produced in 1957.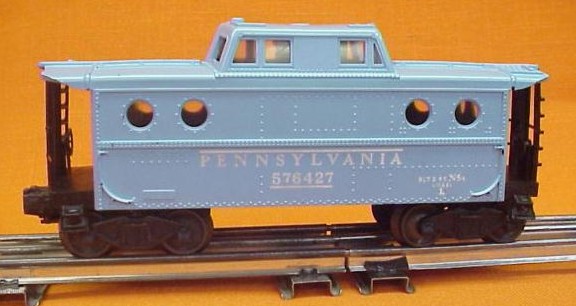 This site brought to you by:

Click on their logo to view high quality postwar Lionel trains for sale