6017-100 Boston & Maine
Production: 1959, 1962 - 1966
History
The 6017-100 Boston & Maine caboose is an attractive caboose. It's colorful paint and realistic markings has placed this caboose in demand by both collectors and operators.
Features
Standard features of the 6017-100 caboose include: blue painted body, single operating coupler and end railings. Only the number '6017' appears on the side of the caboose.
Additional Detail, Photos & Box Information
The 6017-100 had two separate production runs. The initial 6017-100 run in 1959 has AAR trucks with 1959 production characteristics. The final production run between 1962 and 1966 has later style AAR style. Although any Boston & Maine caboose is hard to find in collector quality, the 1959 version is far more difficult to locate in collector condition.
There is one final variation to the Boston & Maine. It centers on the color of the caboose. A very limited qualtity of dark blue shells -- almost purplish in color -- do exist and are an extremely rare variation.
The length of this caboose is approximately 7 1/2" long (coupler to coupler).
Light Blue Shell - Shown in the photo above - The most common version.
Dark Dlue Shell - A rare variation. The exact production years are unknown.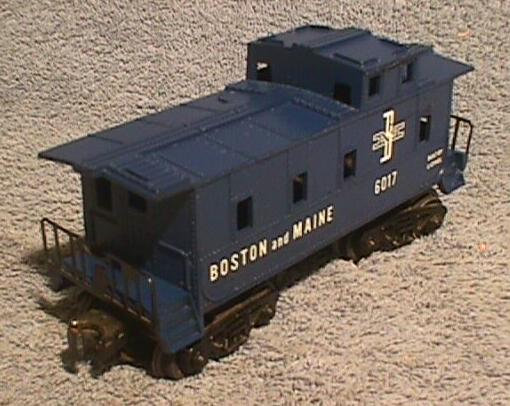 This site brought to you by:

Click on their logo to view high quality postwar Lionel trains for sale