6059 M. & St. L.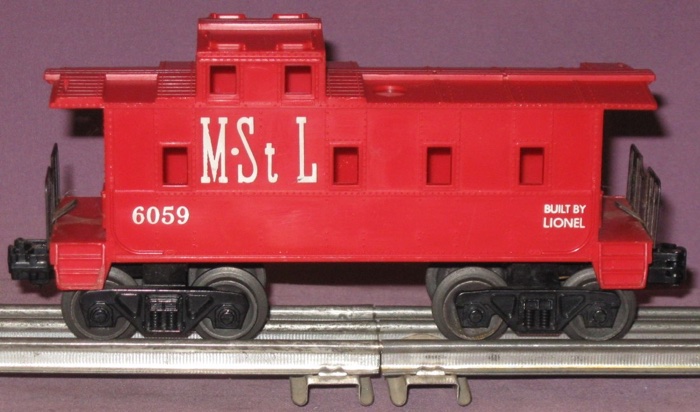 Production: 1961 - 1969
History
The 6059 M. & St. L. (Minneapolis & St. Louis) caboose is a common item. It was manufactured by Lionel during the entire 1960's and included in numerous catalogued and uncatalogued sets, as well as being a separate sale item. This is an extremely easy caboose to acquire in nice condition as there were so many produced. Although there are several variations, only one can be considered hard to locate.
Features
Standard features of the 6059 included; AAR trucks, black frame, black end-railings without a brakewheel and AAR trucks. Although the AAR trucks are standard, they can be either the early or late style, single or dual couplers and finally operating or non-operating couplers.
Additional Detail, Photos & Box Information
Molded Red - Shown in the photo above - The most common version of the 6059 caboose.
Painted Red - This is the hardest variation to locate. Although not rare, it is difficult to locate a painted red version in collectable condition. It is assumed to be part of the first production run in 1961.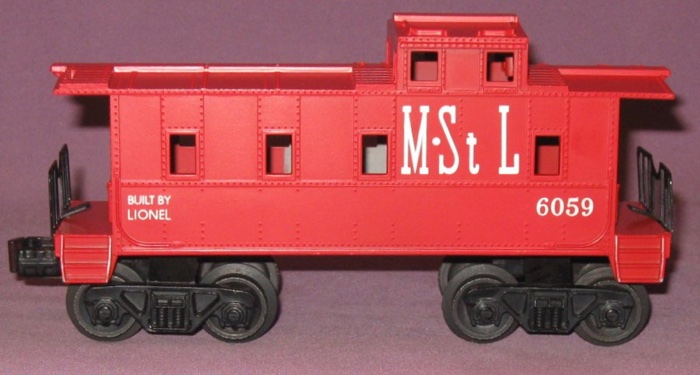 Molded Tuscan - Not as common as one might expect. The molded tuscan shell is harder to find than the molded red version.
This site brought to you by:

Click on their logo to view high quality postwar Lionel trains for sale