6457 Lionel Lines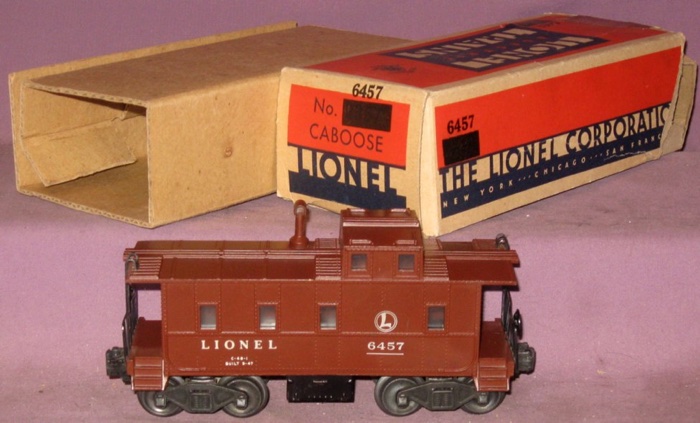 Production: 1949 - 1952
History
The 6457 was introduced in 1949 as Lionel's premium SP-style caboose. It is essentially an updated version of the 2357 caboose with magnetic couplers replacing the coil couplers. The 6457 caboose is an easy caboose to locate. It was available as a separate sale item and also included in Lionel's better sets.
Features
Standard features on the 6457 caboose include: painted body with white lettering, circle 'L' logo in white, illumination, die-cast smokestack, dual battery boxes, ladders at each end, end-railings plus dual operating couplers and two brakewheels.
For most of this cabooses production run, staple-end trucks were the norm. For 1952 -- its final year -- Lionel switched to bar-end trucks. Additionally, the body was first produced with a painted brown shell. Later production included both brown and maroon versions.
Additional Detail, Photos & Box Information
The only significant detail which changed from the initial production cycle is the die-cast smokestack. When originally introduced, the die-cast smokestack was painted brown to match the color of the caboose. Soon after its introduction, the painted stack was changed to be an unpainted black stack. Painted stacks are not available on the maroon version.
The length of this caboose is approximately 7 1/2" long (coupler to coupler).
Brown with Brown Smokestack - Shown in the photo above - Probably produced during the first few runs in 1949 and is not an easy version to locate.
Brown with Unpainted Smokestack - Generally agreed to be most common 6457 caboose.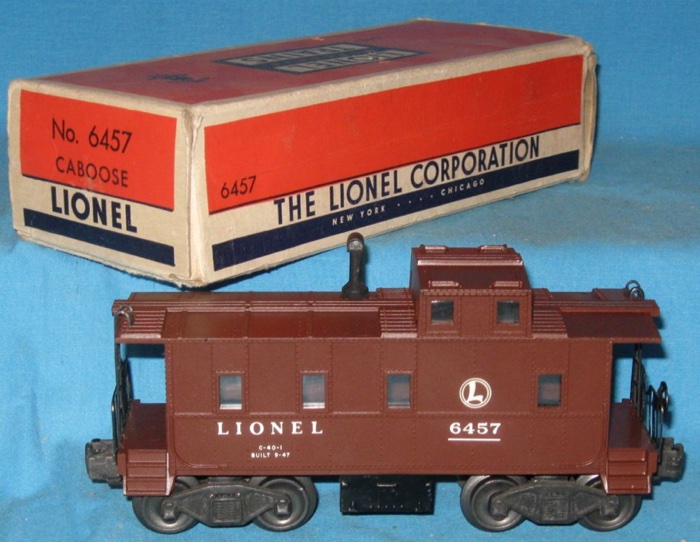 Maroon - Although readily available in the marketplace, it is not as common as the brown version.
This site brought to you by:

Click on their logo to view high quality postwar Lionel trains for sale