6657 Rio Grande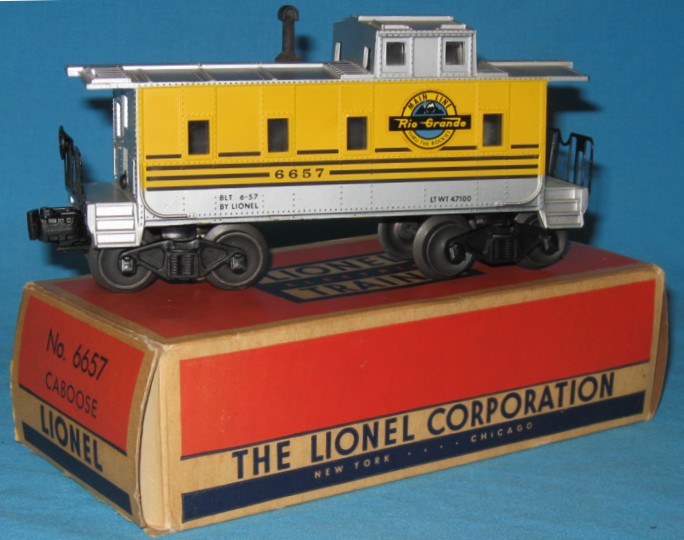 Production: 1957 & 1958
History
The 6657 was catalogued for two years, 1957 and 1958. Some collectors believe the caboose was only manufactured in 1957 and left-over inventory sold during 1958 -- however that has not yet been proven.
With a bright yellow and silver body and realistic Rio Grande railroad decal -- all being an accurate representation of a real-life Rio Grande caboose -- almost all experienced collectors agree the 6657 Rio Grande caboose is the nicest SP-style caboose ever manufactured by Lionel during the postwar years. Because of its attractive and realistic paint scheme, the 6657 is highly sought after in today's market. A clean 6657, especially with bright and unblemished silver, is difficult to locate.
Features
Standard features on a 6657 include; a yellow painted shell with silver painted ends, roof and partial sides, a Rio Grande decal on each side, bar-end trucks with a single tab coupler, black frame, black end-railings with one brakewheel and interior illumination.
Additional Detail, Photos & Box Information
Body with Ladder Slots on Roof - Shown in the photo above - The most common version of the 6657 caboose.

Body without Ladder Slots on Roof - A very scarce variation.
This site brought to you by:

Click on their logo to view high quality postwar Lionel trains for sale