2420 Delaware, Lackawanna & Western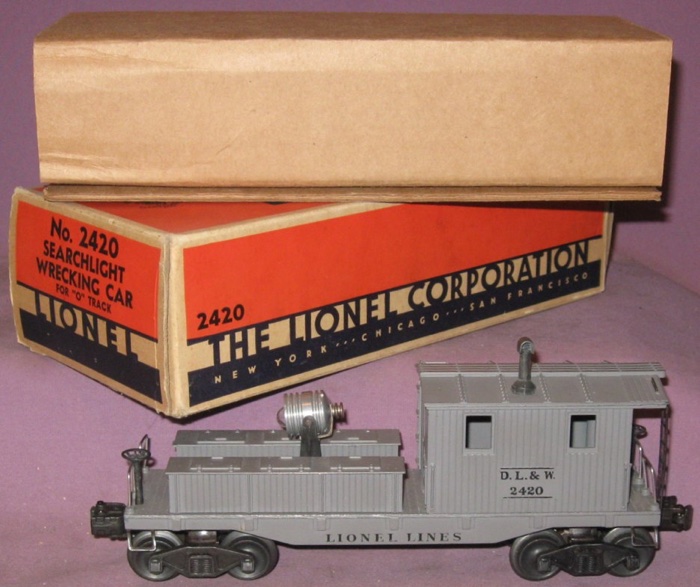 Production: 1946 & 1947
History
The 2420 D.L. & W. (Delaware, Lackawanna & Western) was one of two premium work cabooses introduced by Lionel. The 2420 was available for the first time in 1946 and was classified as the top-of-the-line work caboose because of its searchlight. The 2420 was included in a few select sets as well as being available for separate sale. The 2420 is a hard to find caboose in collectable condition.
Features
The 2420 work cabooses has the following features: dark gray painted caboose with black lettering, tall smokestack, staple-end trucks with coil couplers, a brakewheel and brakestand at each end, four handrailings, footsteps at each corner plus an illuminated searchlight.
There are few variations to the 2420 work caboose. The two variations involve the color of the painted gray on the caboose (light versus dark) and the style of lettering (serif versus sans-serif).
Additional Detail, Photos & Box Information
Dark Gray - Serif Lettered version shown in the photo above - The dark gray is available with either serif or sans-serif lettering.
Light Gray - The light gray is also available with either serif or sans-serif lettering. Any light gray 2420 caboose is rare.
This site brought to you by:

Click on their logo to view high quality postwar Lionel trains for sale