6420 Delaware, Lackawanna & Western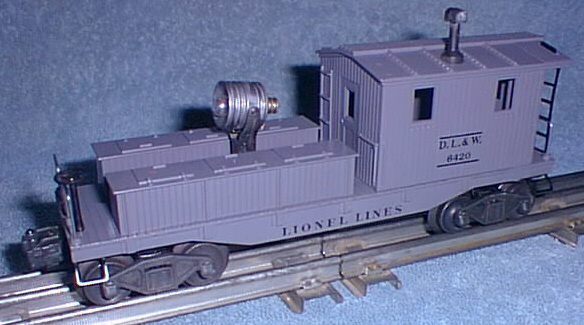 Production: 1948 - 1950
History
The 6420 D.L. & W. with a functional searchlight is one of Lionel's premium work caboose produced during the postwar era. It is a continuation of the 2420 work caboose with the only difference being the 2420's coil coupler was replaced with a magnetic coupler on the 6420. The 6420 is a hard to find caboose in collectable condition.
Features
The 6420 work cabooses has the following features: dark gray painted caboose and tool bins, black lettering, tall smokestack, staple-end trucks with magnetic couplers, a brakewheel and brakestand at each end, rear ladder, four handrailings, footsteps at each corner plus a functional searchlight.
The only variations on the 6420 involve the style of lettering. It is available with either serif or sans-serif lettering.
Additional Detail, Photos & Box Information
Serif Lettering - Serif Lettered version shown in the photo above - The common version.
Sans-Serif Lettering - A much harder variation to locate.
This site brought to you by:

Click on their logo to view high quality postwar Lionel trains for sale