6824 USMC Rescue Unit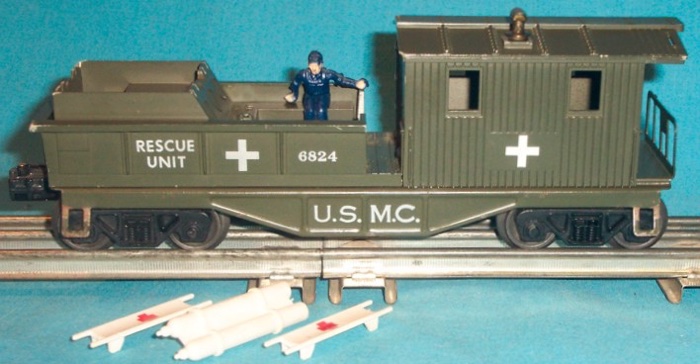 Production: 1960
History
The 6824 United States Marine Core Rescue Unit Work Caboose is frequently referred to as the First-Aid Medical Caboose. This was another item in a series of olive- painted military trains produced by Lionel in the early 1960's.
The 6824 was produced with several 'extras' such as two stretchers, an oxygen tank, a figure and control panel. These components are frequently lost or damaged and locating this caboose with original and unbroken components is difficult.
Features
The 6824 USMC Rescue Unit Work Caboose included the following items: olive-painted caboose and tray, white lettering and markings, short olive-painted smokestack, olive-painted metal frame with white serif lettering plus AAR trucks and one operating coupler.
Additional components included with this caboose include: two white stretchers with the red cross symbol on each stretcher, oxygen tanks, a blue rubberized figure and control panel. As mentioned earlier, these items are usually lost or broken.
This caboose was only available in a Lionel set and not available as a separate sale item.
Additional Detail, Photos & Box Information
A very common problem with all 6824 cabooses is with the footsteps. Quite frequently the corner footsteps are either broken off or the paint has flaked off of the frame. Locating a 6814 caboose with intact steps and paint is difficult.
The length of this caboose is approximately 8 1/2" long (coupler to end).
Only Known Variation - Shown in the photo above - All 6824's are painted olive and include two strecthers and oxygen tanks.
This site brought to you by:

Click on their logo to view high quality postwar Lionel trains for sale