2257WS Five Car Steam Freight Set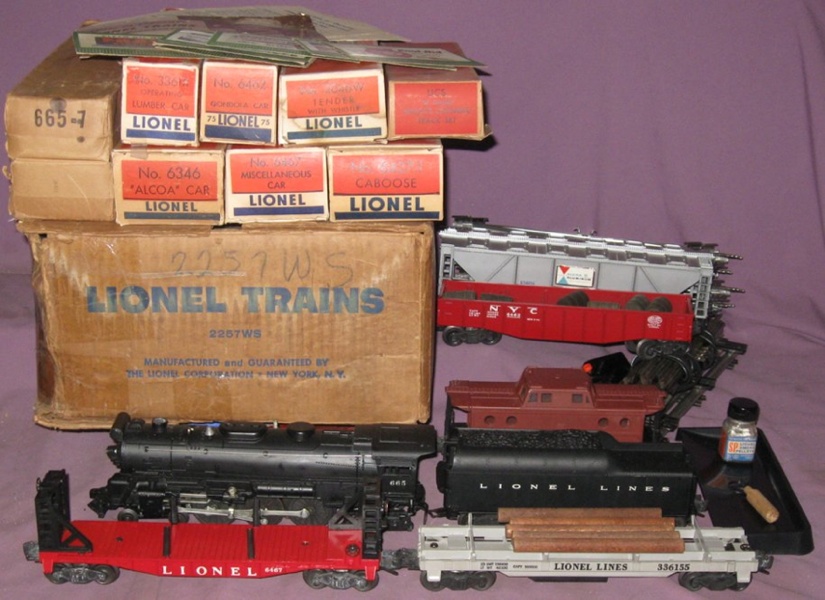 History
Outfit 2257WS is typical of many mid-1950's O gauge freight sets. Heading up this outfit is a nice, solid, reliable steam locomotive followed by several colorful and realistic freight cars. Additionally, the play value of this set was excellent as youngsters could create their own merchandise loads for each freight car. Needless to say, this was a great gift to any child in 1956.
The 665 was a popular steamer for O gauge sets. Lionel included the 665 in a total of nine postwar sets produced between 1954 and 1966. Lastly, this set is somewhat noteworthy as it was the only postwar outfit to include the hard-to-find 6346 Alcoa hopper.
Components:
Standard components of this set include:
665 Hudson
2046W Whistling Tender
3361 Log Dump Car
6346 Alcoa Covered Hopper
6462-75 New York Central Gondola
6467 Miscellaneous Flatcar
6427 Lionel Lines N5C Caboose
Plus: O gauge track, UCS track, 160 dump Bin, smoke pellets, tamper, lubricant, billboards and instruction booklets.
This site brought to you by:

Click on their logo to view high quality postwar Lionel trains for sale