2291W Rio Grande Five Car Diesel Freight Set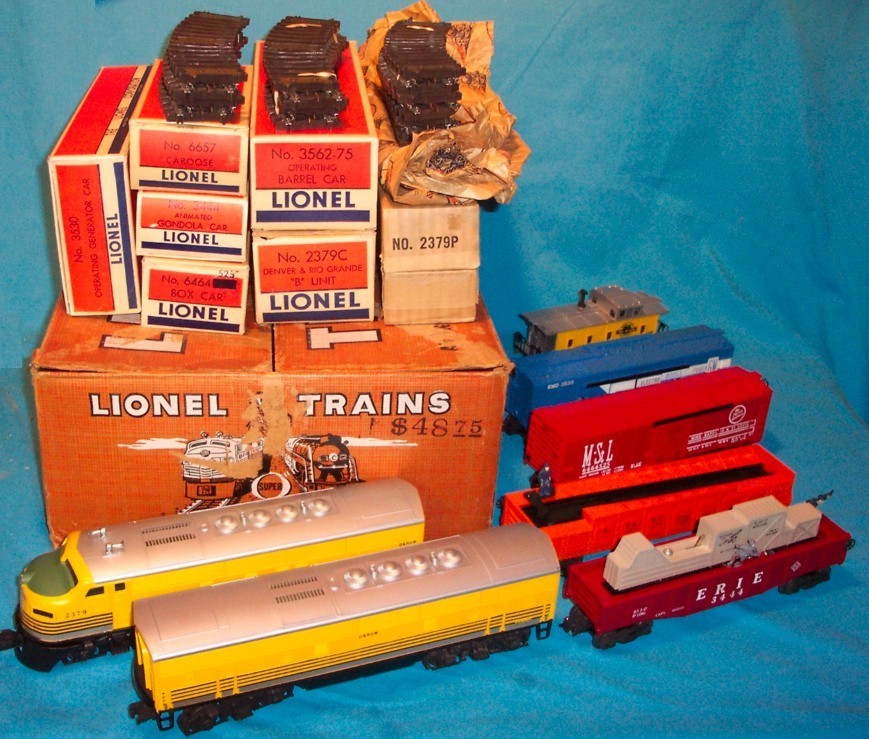 History
The Rio Grande F3 diesel freight set is one of the most colorful and eye-catching postwar sets produced by Lionel. With its striking yellow and silver diesels, matching caboose and bright-colored freight cars, Lionel created a winning combination with this set. Even 50 years after it was originally produced, collectors still drool when this set is seen.
Set 2291W is the first of only two postwar sets headed up by the 2379 Rio Grande F3 AB diesels. To increase the play value of a set, Lionel always tried to include an operating car into a set, sometimes even two operating cars. This outfit is very unusual in that it contained three operating freight cars, something rarely seen in their sets.
Components:
Standard components of this set include:
2379 Rio Grande F3 AB diesels
3444 Erie animated gondola
3530 GM Generator box car
3562-75 A.T. & S.F. Barrel car
6464-525 M. & St. L. box car
6657 Rio Grande Caboose
Plus: Super 0 track, lubricant, billboards and instruction booklets.
This site brought to you by:

Click on their logo to view high quality postwar Lionel trains for sale