1643 Chesapeake & Ohio Diesel Freight Set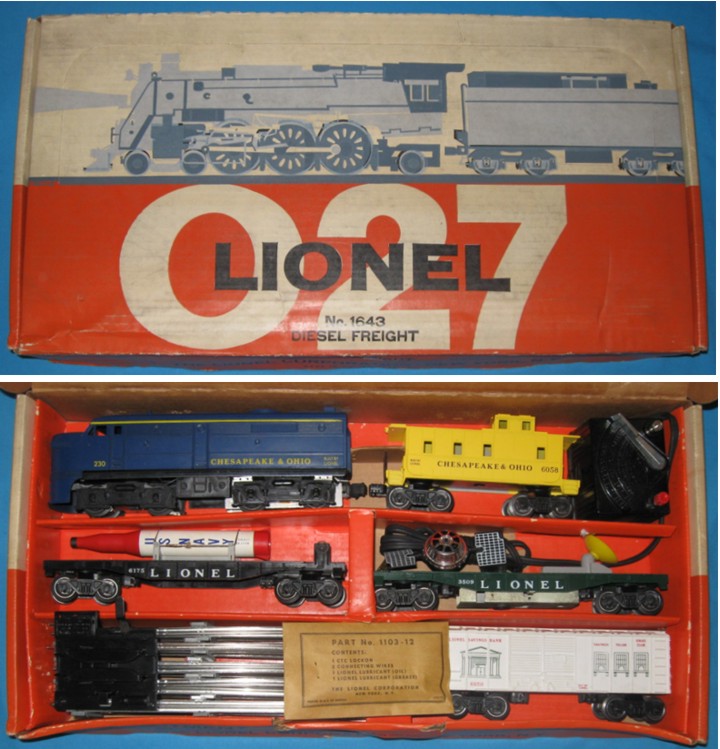 History
Nicknamed the Sky Scout, this is the only set to include the 230 C & O diesel as well as the 6058 C & O caboose. It is also one of the few postwar sets to have the diesel and caboose wearing matching roadnames -- in this case the Chesapeake & Ohio. To this day, fans of postwar Lionel trains wish Lionel would have created more sets with matching locomotive and caboose roadnames -- other than Lionel Lines.
This is a colorful set which includes an operating satellite flatcar as well as a flatcar with a removable rocket. As with most Space & Military related sets, locating complete, undamaged sets are hard to find.
Components:
Standard components of this set include:
230 Chesapeake & Ohio Alco A diesel
3509 Flatcar with Launching Satellite
6050 Savings Bank box car
6175 Flatcar with Rocket
6058 Chesapeake & Ohio caboose
1025 Transformer
Plus: 027 track, camtroller, billboards and instruction booklets.
This site brought to you by:

Click on their logo to view high quality postwar Lionel trains for sale