207 Artifical Coal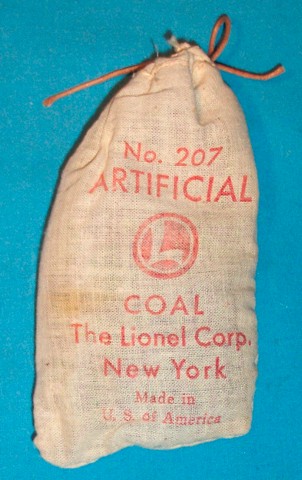 Production: 1945 - 1959
History
The 207 Artificial Coal was originally issued during the prewar Lionel era. In an effort to enhance the play-value of it's coal-related trains, Lionel included a bag of 207 Artificial Coal included with every prewar and postwar coal-related freight car or accessory.
As the name implies, the artificial coal is exactly that -- artificial! The simulated coal is simply excess Bakelite material crushed into small pieces. Bakelite is the product used in the manufacture of transformer cases and components of 022 switches.
The 207 coal contained approximately a quarter-pound of simulated coal. It was never listed as a separate sale item and was only included with coal-related freight or accessory products. This differed from the 206 Artificial Coal which contained only a half-pound of simulated coal. Additionally, the 206 was intended to be sold separately and never included with any accessories or freight cars.
Features
Standard features of the 207 Artificial coal include: white or cream colored cloth bag with red or reddish-orange lettering and a reddish-orange drawstring. When full, the 206 contained about one quarter pound of coal.
Additional Detail, Photos & Box Information
As with many of the smaller individually packaged items sold by Lionel, locating the original container is usually more difficult than locating the item. The 207 bag of coal is somewhat hard to find, while the coal is easy to locate.
The 207 Artificial Coal enjoyed a lengthy 15-year production run. Unlike the 206 bag of coal, the 207 did not have any significant variations. All bags of 207 coal had company name printed as The Lionel Corp. -- and never fully spelt out the word Corporation.
Only Known Variation - Shown in the photo above - All 207 bags have the abbreviation Corp. in the company name.
This site brought to you by:

Click on their logo to view high quality postwar Lionel trains for sale