927 Lubricating & Maintenance Kit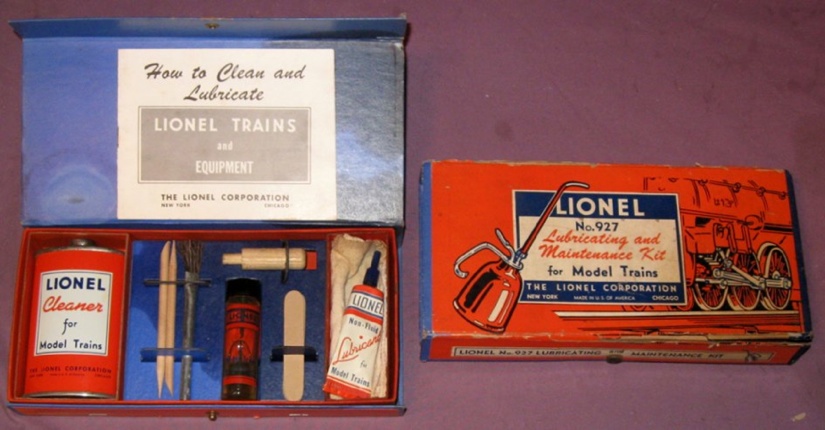 Production: 1950 - 1959
History
The 927 Lubricating and Maintenance Kit was available to the public throughout the 1950's and was solid sales item every year. For any Lionel train enthusiast, this kit was invaluable as it contained all of the necessary tools to keep a Lionel locomotive, freight car or accessory in top-notch, perfect operating condition.
Since the Lubricating & Maintenance Kit was sold for ten years, variations do exist. Although some of the variations are harder-to-find compared to others, none are considered rare.
Features
Listed below is a summary of the more significant changes throughout the production cycle:
Display Box - The 1950 box has two staples visible in the front when the snap-lid is opened. Subsequent years did not have the staples.

Metal Cleaner Container - From 1950 thru 1956, the metal can was orange. Beginning in 1957 the can was blue. The reason for the change is the earlier orange containers contained a flammable solution, while the later blue containers contained a non-flammable solution. This non-flammable liquid was also supplied with the 3927 Track Cleaning Car.

Display Lid - The 1952 version of this box contains an OPS stamping on the exterior. All remaining years did not contain the OPS printing.

Instruction Booklet - The small 4" x 5" instruction booklet contained a copyright year on the rear page. Thus far, booklets containing a 1950, 1952, 1953, 1954 and 1956 dates have been observed.

All remaining components remained basically unchanged throughout the rest of the production cycle.
Additional Detail, Photos & Box Information
Only Known Variation - Shown in the photo above - An orange exterior box with a blue interior. The two side compartments are outlined with an orange cardboard liner and the inner raised panel was always blue.
This site brought to you by:

Click on their logo to view high quality postwar Lionel trains for sale