022 Remote Control Switches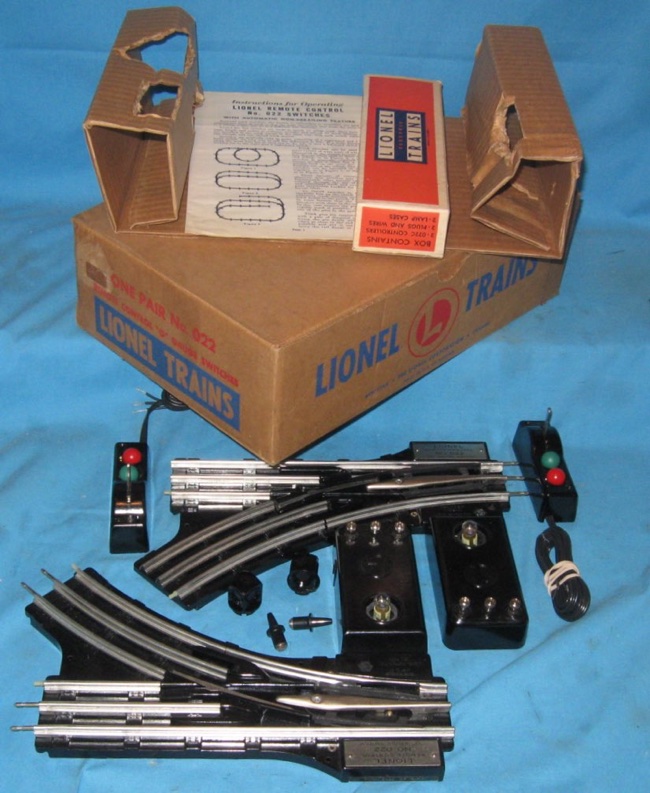 Production: 1945 - 1966
History
Lionel 022 remote control switches have become a staple on any postwar O gauge layout. The reliability and durability of these switches have made them the standard O gauge switch for all manufacturers.
Lionel began manufacturing the 022 switch in 1938 during its prewar era. Postwar production continued after the war and these switches were available from 1945 thru 1966. Besides being sold as a pair (one left and one right-hand switch), the switches were also sold individually.
These switches are straightforward to set up, even for the beginner. Additionally, advanced operators frequently operate these switches in conjunction with signals such as the 151 Semaphore or 153 Block signal. Operator's and collectors generally agree the best features of the 022 switches are its constant voltage option and non-derailing feature.
Features
Standard features of the 022 include: bakelite base, metal rails with an insulated rail to control the non-derailing feature, reversible motor control plus a controller, constant voltage plug and direction les caver.
The only variation regarding the switches involves the lamp. Prior to 1950, the lamp base used a screw-in base. Beginning in 1950, Lionel used a bayonet-based bulb.
Additional Detail, Photos & Box Information
Only Known Variation - Shown in the photo above - The look and style of the 022 switches did not change during the entire production period, however there were several changes to the packing box during the entire postwar era.
This site brought to you by:

Click on their logo to view high quality postwar Lionel trains for sale