3562 A.T. & S.F.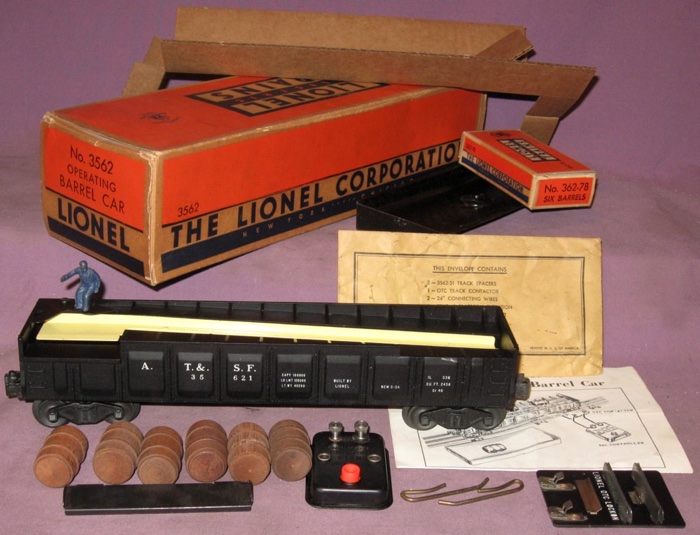 Production: 1954 - 1958
History
The 3562 A.T. & S.F. operating barrel car was an ingenious design by Lionel during its most innovative postwar years, the mid-1950's. The initial barrel cars were designed to operate with a 160 unloading bin. However, the early success of the operating barrel car quickly brought out the introduction of a companion accessory, the 362 barrel loader.
The 3562 was in the Lionel family for five years. During that time, the barrel car underwent several color changes and body style variations. Collecting each style and variation with require time and resources as some are hard to find in collector condition.
Features
The 3562 basically contained the same features for its entire run. They include: painted or unpainted bodies, various letter colors, bar-end trucks, operating coulers and a minature figure (man) at the offloading end. Each color of the barrel car was assigned its own number and the number was stamped on the side of the car.
The only variation to the body included the addition of a small plastic tab molded into the frame near the unloading man. This was used to secure the man in place but more importantly prevented the barrels from unloading while a train was traveling around a layout. This change occured during the 1955 production run. Barrel cars from the 1955 era were produced both with and without this tab.
Additional Detail, Photos & Box Information
The length of the barrel car is approximately 11 1/4" long (coupler to coupler).
3562-1 Black Body - Shown in the photo above - This is the second hardest version to locate. It was produced as a painted black body in 1954 with either a black or yellow center trough.
3562-25 Gray Body - The painted gray version was produced in 1954. The gray body style has the easiest and also the most difficult variation to find. The gray body with blue lettering is generally regarded as the easiest barrel car to locate. However, the gray body with red lettering is quite rare.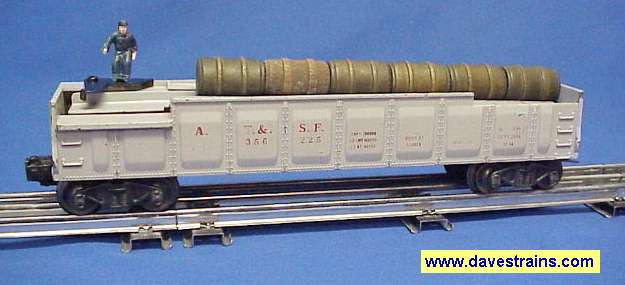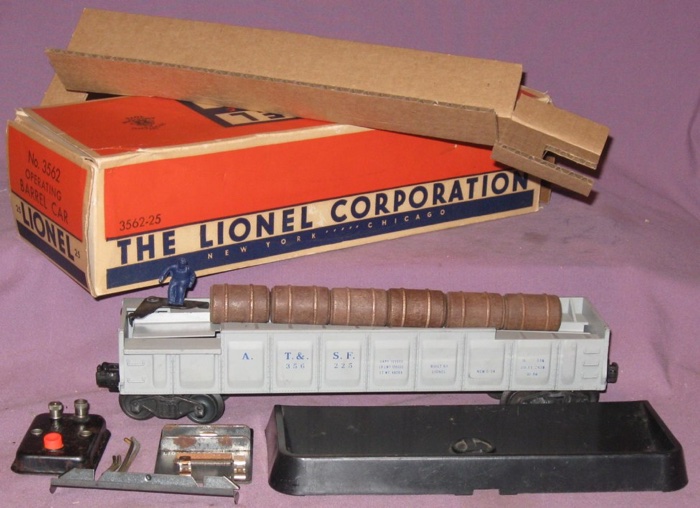 3562-50 Yellow Body - The yellow barrel car was produced in 1955 and 1956 and came in both painted and unpainted versions. The painted version is difficult to locate and tough to find in nice condition.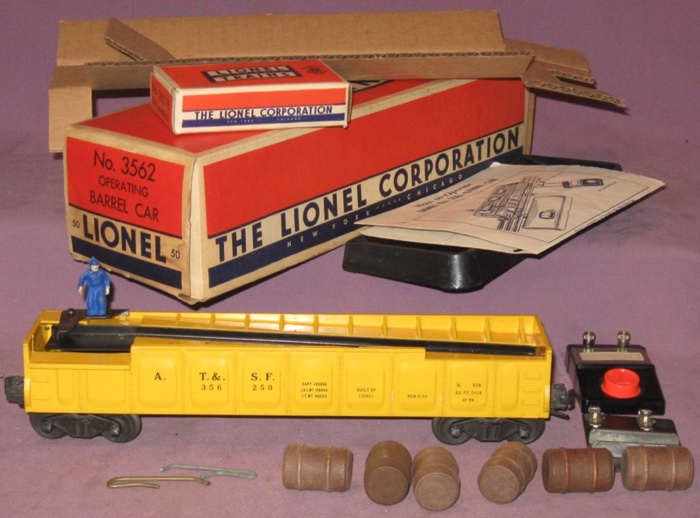 3562-75 Orange Body - Although the production cycle lastest for two year, 1957 and 1958, the unpainted orange barrel car is not easy to locate.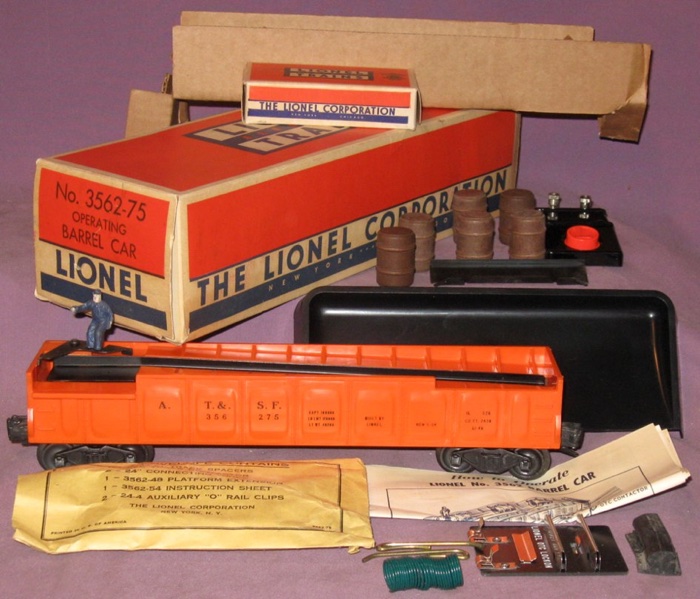 This site brought to you by:

Click on their logo to view high quality postwar Lionel trains for sale