6112 Lionel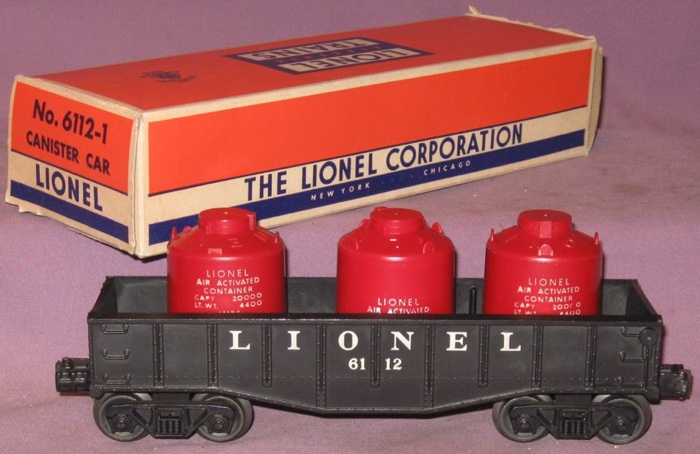 Production: 1956 - 1958
History
The 6112 Lionel gondola was introduced by Lionel in 1956 and remained in the catalogue for three years. Whether in a set or for separate sale, the 6112 always included either four white or two red cannisters with lettering.
The 6112 gondola was reserved for beginner and entry level sets. It's bigger brother gondola, the 6462 and 6562, remained the standard for middle-of-the-line and top-of-the-line sets.
The 6112 was available in three color variations, black, blue and white. The black and blue are common items while the white is very hard to locate. A common problem with the white versions is the white has started to age and is frequently found with yellowish areas on the gondola. Additionally, the black lettering on the white gondola is easily smudged when handled or washed. Pure white versions with crisp lettering are extremely hard to locate.
Features
Standard features on the 6112 Lionel Lines gondola include: unpainted bodies (either black, blue or white), bar-end trucks in 1956 and AAR trucks in 1957 and 1958, four cannisters (red or white) with lettering plus a molded brakewheel. White lettering was used on the black and blue versions while black lettering was used on the white gondola.
Additional Detail, Photos & Box Information
Black (6112-1) - Shown in the photo above - A common version produced in all three years.
Blue (6112-85) - A common version available in all three years.

White - A desirable gondola. Pure white examples with crisp letters are difficult to locate. The exact year of production is unknown, but assumed to be 1957 and 1958 since it is always found with AAR trucks.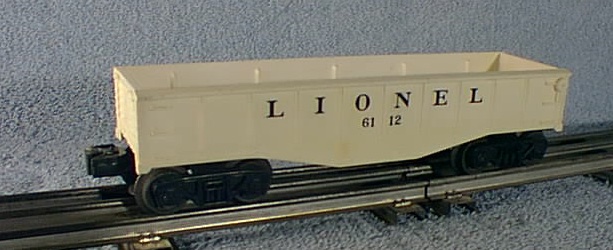 This site brought to you by:

Click on their logo to view high quality postwar Lionel trains for sale