3472 Refrigerator Milk Car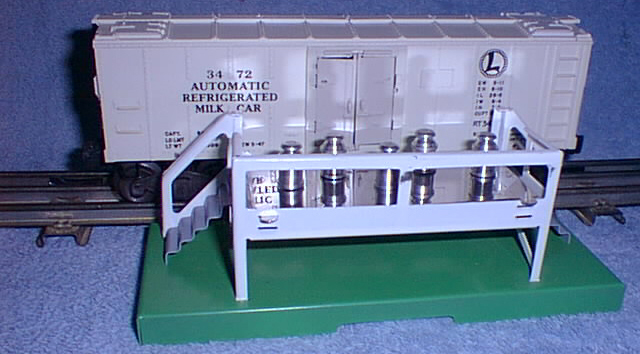 Production: 1949 - 1953
History
Unquestionably, the 3472 was Lionel most popular accessory. During its four-year run, it is estimated more than 8 million milk cars sets were sold!
The 3472 Automated Refrigerator Milk Car consisted of two components -- a 3472 operating milk car and a delivery stand. To this day the operating milk car remains a popular accessory as it is a reliable accessory and only occasionally needing a cleaning or minor adjustment.
Features
Standard features of the 3472 Automated Refrigerated Milk Car set include:
3472 Milk Car - The milk car has either a cream or white body with black lettering, metal trucks, operating couplers, single metal brakewheel, metal footsteps at each corner, opening doors on each side plus aluminum milk cans with magnets mounted on the bottom. As production continued, so did the variations. Listed below are some of the more significant changes to the milk car in year order:Milk Stand - Green painted base with a white stand and an adjustable metal tray. The stand is a stationary item and non-operational.

1949 - Introduced as an all new accessory.

Mid-1949 - Unpainted white shells replace the painted cream colored shells of early 1949.

1950 - White plastic doors replace the aluminum doors.

1952 - Bar-end trucks replace the staple-end trucks.
Additional Detail, Photos & Box Information
Cream Shell & Aluminum Doors - Shell is painted an off-white, almost cream color and includes aluminum doors. Estimated to have been produced only in the early part of 1949 and is the hardest version to locate.
White Shell & Aluminum Doors - Shell is now an unpainted white with aluminum doors. Production started in early 1949 and continued throughout the year. This is hard to locate in collector quality.
White Shell & Plastic Doors - Shown in the photo above - The most common version.
This site brought to you by:

Click on their logo to view high quality postwar Lionel trains for sale