3482 Refrigerator Milk Car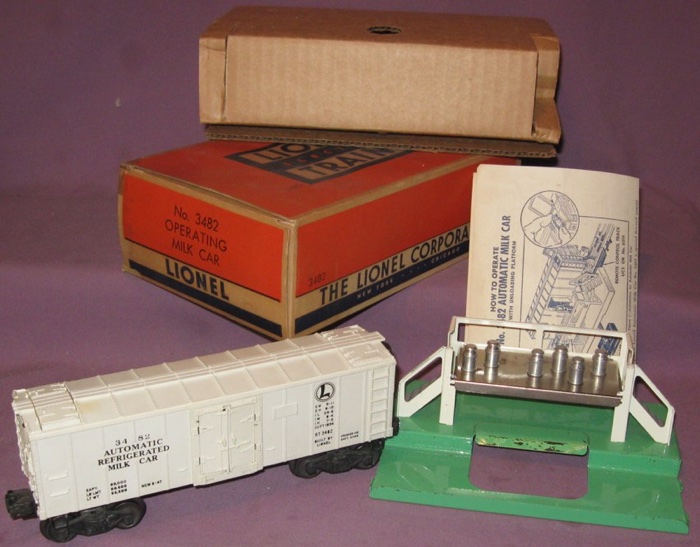 Production: 1954 & 1955
History
The 3482 was Lionel's final version of the small operating milk car. Beginning with the 3462 Milk Car in 1947, then the famous 3472 in 1949 and finally the 3482 offered in 1954 -- it is estimated the three different small operating milk cars sold more than 12 million sets in the the nine year production run!
The 3482 Automated Refrigerator Milk Car consisted of two main components -- a 3482 operating milk car and a delivery stand. To this day the operating milk car remains a popular accessory as it is a reliable accessory and only occasionally needing a cleaning or minor adjustment.
Features
Standard features of the 3482 Automatic Refrigerated Milk Car set include:
3482 Milk Car - The milk car has an unpainted white body with black lettering, metal trucks, operating couplers, single metal brakewheel, metal footsteps at each corner, opening doors on each side plus aluminum milk cans with magnets mounted on the bottom.

Milk Stand - Green painted base with a white stand and an adjustable metal tray. The stand is a stationary item and non-operational.
Additional Detail, Photos & Box Information
RT3472 on Right - Early 1954 production included some carry-over 3472 shells. These shells have the characters 'RT3472' to the right of the side doors while carrying the correct '3482' to the left of the door. This version is difficult to locate.


RT3482 on Right - Shown in the photo at the top of page - The normal production run consisted of the correct 'RT3482' to the right of the side doors.
This site brought to you by:

Click on their logo to view high quality postwar Lionel trains for sale