6472 Refrigerator Milk Car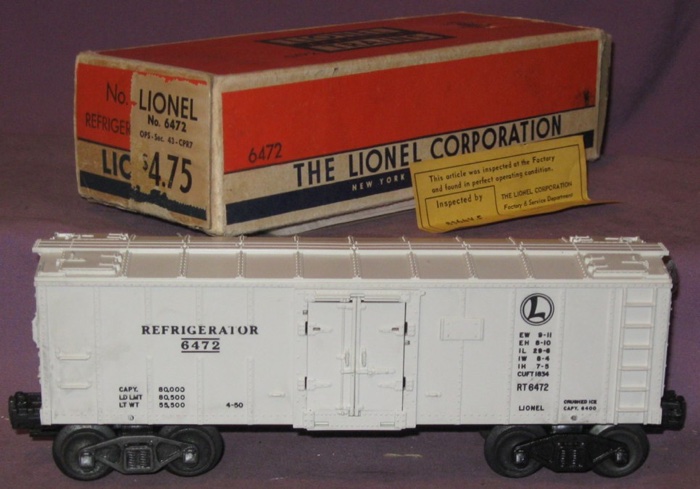 Production: 1950 - 1953
History
The 6472 Refrigerator Car is a non-operating version of Lionel's highly successsful 3472 operating milk car. Both cars share many of the same parts and in most cases the parts are fully interchangable between the cars.
The 6472 is a common car. Unfortunately, the white shell generally shows signs of fading to an off-white or in extreme cases a cream color. Locating nice and clean examples with a pure white color will require some effort.
Features
The 6472 was introduced in 1950 with the following features: unpainted white shell with black lettering, staple-end operating trucks, metal footsteps at each corner plus opening doors and a single brakewheel.
As the production cycle evolved, so did the changes. Listed below are the changes in year order:
1950 - Introduced as listed above.

1951 - Footsteps eliminated at each corner.

1952 - Bar-end trucks replaced the staple-end trucks. The car ran unchanged in 1952 and 1953.
Additional Detail, Photos & Box Information
1950 - Includes footsteps at all four corners. This is the hardest version to locate.
1951 - Footsteps eliminated, continued to use staple-end trucks.
1952 - Shown in the photo above - Bar-end trucks replace the staple-end versions. This is the most common version.
This site brought to you by:

Click on their logo to view high quality postwar Lionel trains for sale