6572 REA Refrigerator Car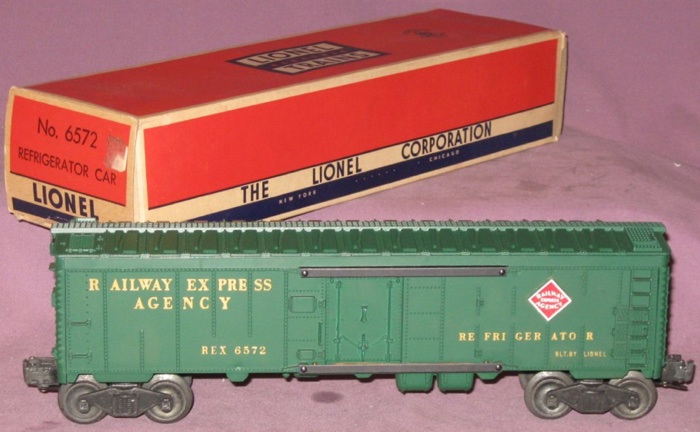 Production: 1958, 1959 & 1963
History
The 6572 Railway Express Agency (REA) Refrigerator Car was a continuation of the 6672 Santa Fe Refrigerator Car, but with an updated roadname and exterior graphics. It is a near-scale model (1:48 scale) of its real-life counterpart and continued to support Lionel's effort to produce accurate and prototypical trains from that era.
The 6572 was listed in the Lionel consumer catalogue in 1958 and 1959. However, for 1963, the 6572 was an uncatalogued offering. This is one of the very few exceptions where the catalogued version is much harder to locate than the uncatalogued version!
Features
The 6572 REA refrigerator car included the following standard features: green painted body with gold lettering, red and white REA decal to right of door, two operating couplers, functional sliding plug-door, single brakewheel plus a simulated control panel with sliding door on one side of the refrigerator car.
For 1958 and 1959, the REA refrigerator car was produced with bar-end trucks -- while the 1963 version had AAR trucks.
Additional Detail, Photos & Box Information
Bar-end Trucks - Shown in the photo above - Much harder to locate than the later version.
AAR Trucks - Althought the AAR truck version was uncatalogued, it is far easier to locate compared to the earlier version.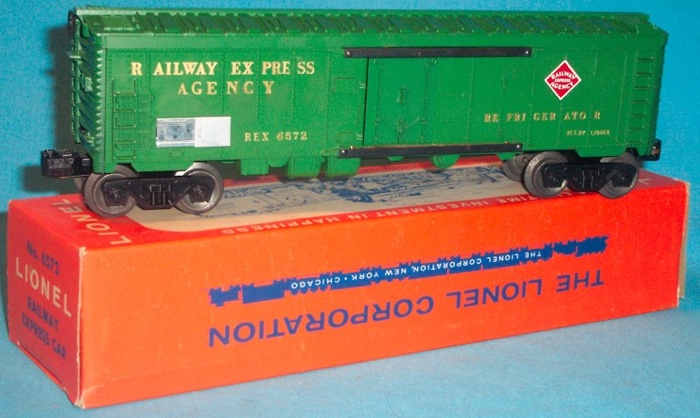 This site brought to you by:

Click on their logo to view high quality postwar Lionel trains for sale