6460 Bucyrus Erie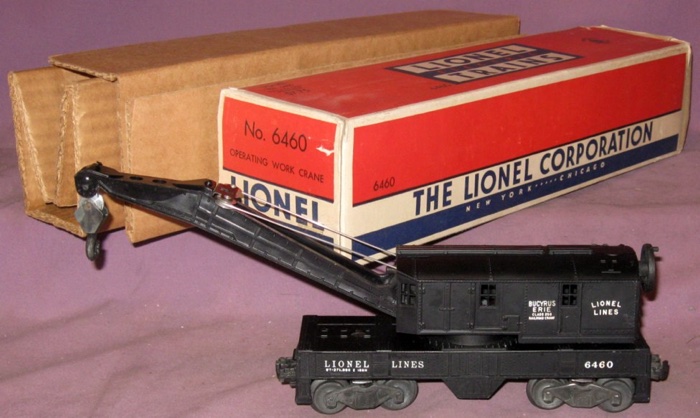 Production: 1952 - 1954
History
The 6460 Bucyrus Erie operating crane car was a continuation of the 2460 crane car with some manufacturing changes. The primary difference is the 6460 has four-wheel trucks while the 2460 has six-wheel trucks. Otherwise, the crane cars are very similar in appearance and operation.
The crane was equipped with two functional crank handles. The rear crank operated the position of the boom while the side crank was used to raise and lower the hook
Features
Standard features of the 6460 include: rotating cab, manually crank handles to operated the boom and hook, black painted cab and die-cast frame with white lettering. It was always produced with bar-end trucks.
Other standard features on the 6460 include:
The hook was always turned 90 degrees from the the pulley.

The word 'Lionel' was always on an arched line while the word 'Lines' appeared on a horizontal line below 'Lionel'.

The cab never contained a smokestack.

The die-cast hand cracks were always of the open crank variation.
Additional Detail, Photos & Box Information
A common problem of the 6460 crane car is the way in which the cab was secured to the rotating frame. The screwholes are frequently found stripped or shattered. A cab with intact screwholes will command a premium.
The length of the base of a crane car is approximately 8" long (coupler to coupler), while the length of the car including the boom in the lowered position is approximately 12 1/2 inches.
Black Cab - Shown in the photo above - The most common version.
Red Cab - Assumed to be a limited run during 1954. This crane car is usually referred to as the 6460-25 crane car and is rare.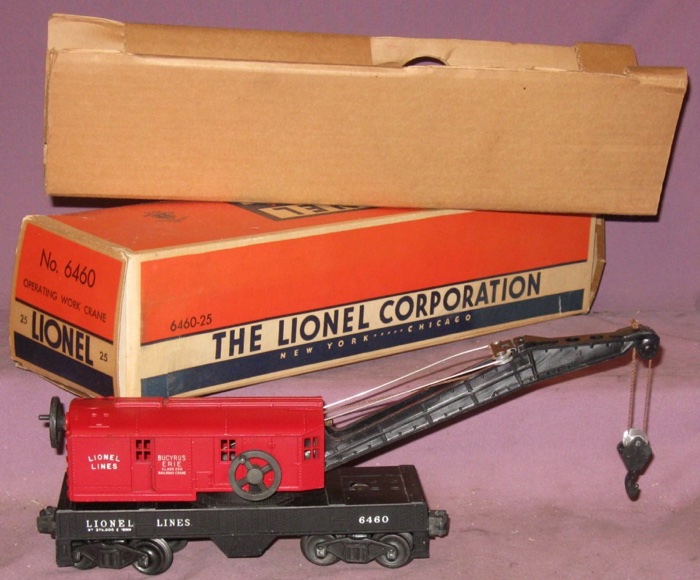 This site brought to you by:

Click on their logo to view high quality postwar Lionel trains for sale