6440 Twin Piggy Back Vans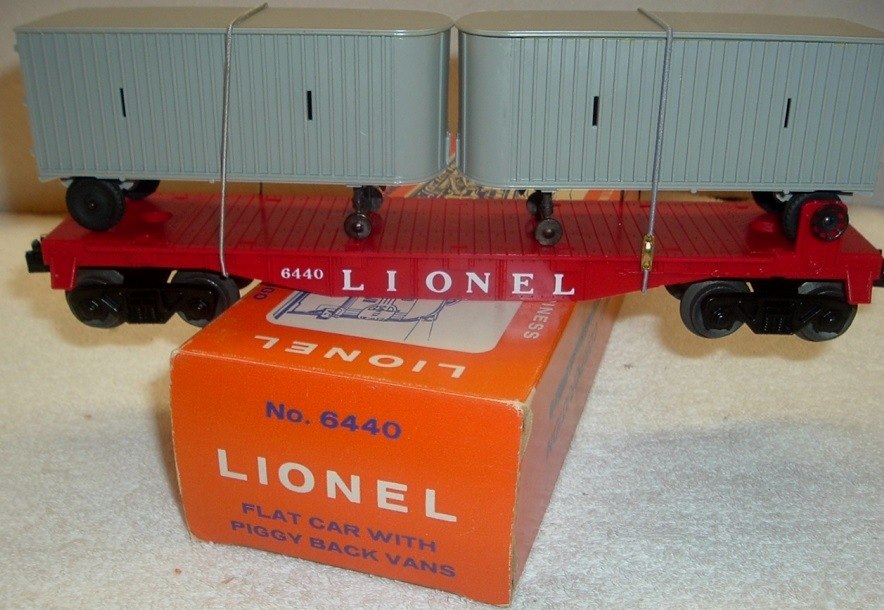 Production: 1961 - 1963
History
The 6440 is a low cost version of the 6430 Cooper-Jarrett Van car of the late 1950s. Although operators prefer the 6430, collectors pursue the 6440 as it is harder to locate than a 6430.
Features
Standard features of the 6440 include: unpainted red flatcar with white lettering, AAR trucks, two operating couplers plus a brakewheel stand and four corner footsteps.
The Twin Piggy-Back Van car always included two gray vans. The vans were void of any exterior roadname of identification markings. Additionally, the vans were always the variety with a single rear axle with a single rubber tire on each end of the axle. Unlike the 6430, the center metal rack used to hold the vans in place was not included on this flatcar.
Additional Detail, Photos & Box Information
The length of this flatcar is approximately 11 1/4" long (coupler to coupler).
Only Known Variation - Shown in the photo above - All are unpainted red flatcars with plain gray vans having a single rear alxe.
This site brought to you by:

Click on their logo to view high quality postwar Lionel trains for sale