6424 Flatcar w/ Autos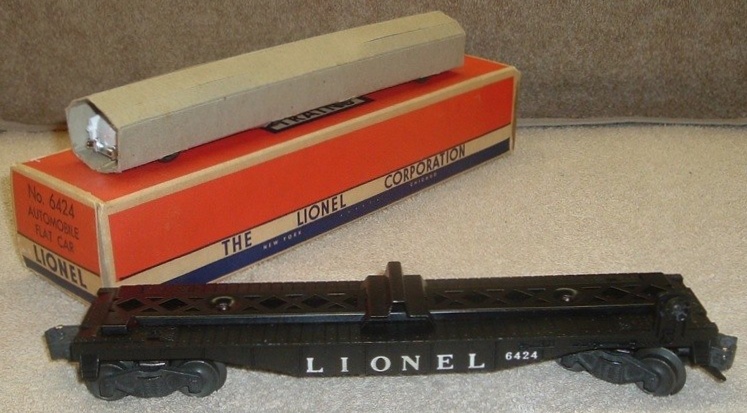 Production: 1956 - 1959
History
The 6424 Twin Automobile Car was introduced in 1956. It was a nice companion to the 6414 automobile carrier introduced in the previous year. As a matter of fact, the 6424 autos are easier to view and better displayed than the 6414 automobile carrier.
A small piece of history is associated with the introduction of the 6424 twin automobile car. Specifically, this flatcar introduced a new flatcar mold (#6424-11) to the Lionel line. This mold (#6424-11) continued throughout the remaining postwar era. Although the number and color varied, it remainded the same mold number on the flatcar.
Features
The 6424 ran for several years and included many variations. Regarding the automobile color, any color combination could have been included by Lionel. In most instances Lionel included two different color autos, but exceptions do exist and occassionally you'll find an auto car with two of the same color autos.
Standard features include: black molded frame with white lettering, two premium automobiles, two operating couplers, a metal superstructure used to hold the vehicles onto the flatcar, simulated footsteps at each corner plus a single brakewheel stand with metal brakewheel.
Additional Detail, Photos & Box Information
As for variations, you'll find the 6424 with differnet mold numbers, truck types or location of the stamped number on the frame.
Bar-End Trucks - Shown in the photo above - All bar-end versions have the number on the right. A metal plate is used to secure the trucks to the frame while the superstructure is screwed to the metal truck frame.
AAR Trucks, 6424 on Left - Some versions with AAR trucks have the number '6424' to the left of the word Lionel on the side of the flatcar. The superstructure is riveted to the frame.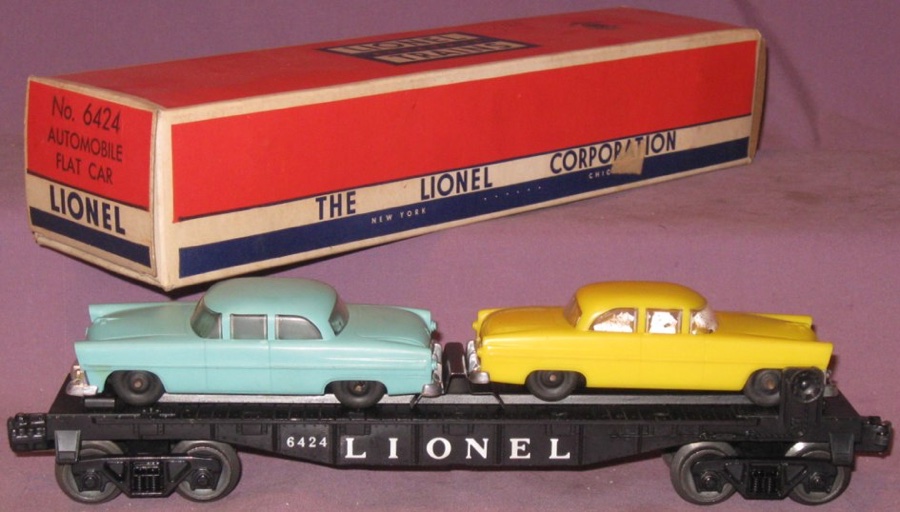 AAR Trucks, 6424 on Right - Flatcars with AAR trucks and the number '6424' to the right of the word Lionel on the side of the flatcar are somewhat hard to find. The superstructure is riveted to the frame.

'Slotted' frame for 6805 - A few examples of the 6424 flatcar have surfaced with a modified 6424-11 frame. The modification deals with the addition of 4 extra slots in the frame and 2 small molded 'bumps' on the top near each end (4 in total). This is the rarest version of the 6424 flatcar and will command a steep premium in today's marketplace.
This site brought to you by:

Click on their logo to view high quality postwar Lionel trains for sale