3359 Twin Dump Car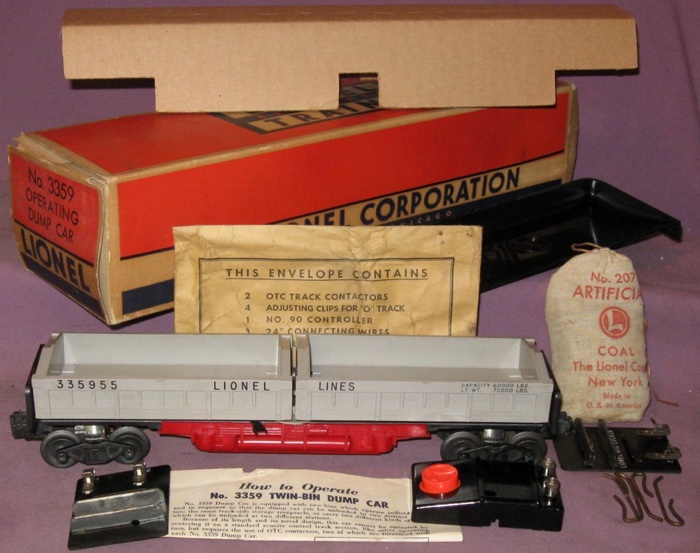 Production: 1955 - 1958
History
The 3359-55 Twin Dump Ore Car was a totally new design for Lionel in 1955, unlike any previous operating dump car. It is loosely based upon an experimental real-life twin dump car built in the 1950s by an eastern United States railroad.
Lionels version is both impressive looking and reliable. Given it's ability to work with several of Lionels coal related accessories has made this a desireable car -- both for the collector and operator. Children continue to enjoy the remote control operation of this car when used in conjunction with any of the operating coal accessories.
Features
Standard features of the 3359-55 include: two operating die-cast tab couplers, twin operating gray dump bins with black lettering, unpainted red simulated motor assembly, brakewheel and a sheet-metal frame.
Operation of the car used a cam mechanism mounted in the center of the car. The cam slowly lifted each dump bin -- lifting only one side at a time.
Additional Detail, Photos & Box Information
Lionels stock number for this car is 3359, although the number 335955 is always found on the car. The addition of the '55' indicated the first year of Lionels production. Be aware, all production models from 1955 - 1958 included the '55' extension.
One of the hardest items to locate for the 3359 is the original insert for this freight cars box. Any 3359 with an original insert will command a premium.
Only Known Variation - Shown in the photo above. - All 3359s have twin gray dump bins with black lettering.
This site brought to you by:

Click on their logo to view high quality postwar Lionel trains for sale