3559 Ore Dump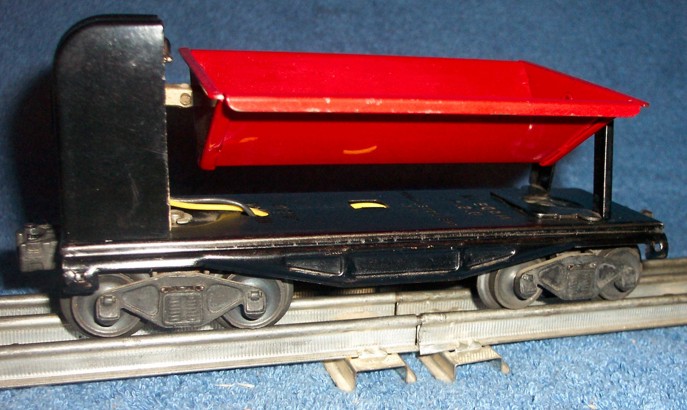 Production: 1946 - 1948
History
The primitive-looking 3559 Coal Dump car reflects a carryover design from the prewar Lionel era. Except for the updated postwar trucks and couplers, it is identical to Lionel's prewar 3659 Coal Dump car produced between 1938 and 1942.
This freight car is pursued by collectors more than operators. Operators prefer the updated -- and more realistic -- 3459, 3469 or 3359 postwar coal dump cars.
Features
Standard features of the 3559 include: painted red metal coal dump bin, painted black sheet-metal frame plus a bakelite housing covering the operating mechanism. There is a metal footstep on each corner of the frame and the number is stamped in white or silver on the bottom of the frame.
Early 1946 versions had flying shoe trucks. In mid 1946, Lionel updated the truck to the staple-end truck with coil couplers. The flying shoe truck is a difficult variation to locate.
Additional Detail, Photos & Box Information
Only Known Variation - Shown in the photo above. - All 3559s have a red metal dump tray with a black sheet metal frame. The only variation to this freight car is the truck. The early flying shoe trucks are much harder to locate than the later coil coupler version.
This site brought to you by:

Click on their logo to view high quality postwar Lionel trains for sale