3456 N & W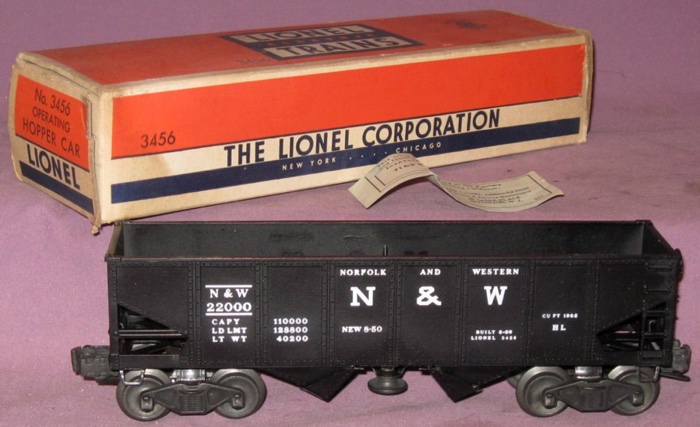 Production: 1950 - 1955
History
The 3456 N & W (Norfolk & Western) operating hopper was the only operating hopper produced by Lionel in the postwar years. It was made to be used with the 456 Coal Ramp.
To fill a 3456 hopper, you caould use one os several accessories such as the 97, 397 or 497 coaling stations. However, unloading this hopper could only be accomplished with the 456 Coal Ramp.
Features
Standard features of a 3456 hopper includes: staple-end trucks for 1950 and 1951 and bar-end trucks from 1952 until 1955, two operating couplers, black body, white lettering plus a single brakewheel.
On the bottom of the 3456 was a special unloading apparatus. As mentioned earlier, this freight car can only be unloaded from hte 456 Coal Ramp.
Additional Detail, Photos & Box Information
Only Known Variation - Shown in the photo above - All N & W operating hoppers are balck with white lettering.
This site brought to you by:

Click on their logo to view high quality postwar Lionel trains for sale