6636 Alaska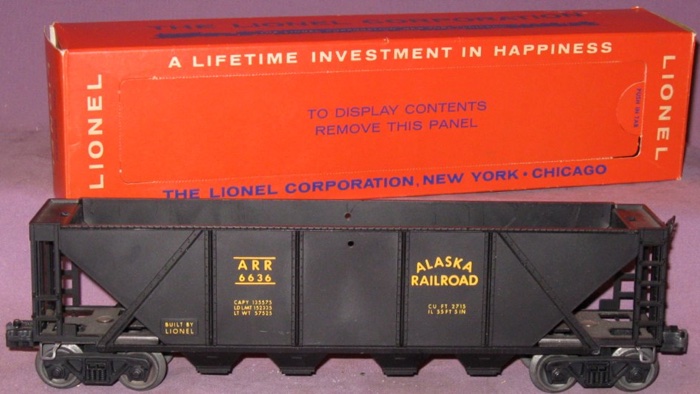 Production: 1959 & 1960
History
1959 marked the year Alaska became the 50th state in the union. To mark this commemorative event, Lionel introduced several rolling stock items with the Alaska Railroad logo. In the case of the 6636 hopper, Lionel printed the Alaska Railroad roadname on the exterior.
Although this hopper was catalogued for two years, it is generally agreed upon by experienced collectors that production was only for a single year -- 1959. The 1960 catalogue listing was Lionel's marketing attempt to sell remaining inventory. The 6636 Alaska hopper is a hard item to locate and it's original box is very difficult to locate in collector condition.
Features
Standard features include: black painted body with yellow lettering, dual operating couplers, AAR trucks, brakewheel plus a metal spreader bar.
Additional Detail, Photos & Box Information
Only Known Variation - Shown in the photo above - All Alaska hoppers are painted black with yellow lettering.
This site brought to you by:

Click on their logo to view high quality postwar Lionel trains for sale