Unmarked

Production: Various yers during the 1960's
History
During the 1960s, Lionel implemented numerous cost reduction processes. One of them being the creation of a plain hopper with no decoration. These unmarked hoppers -- void of any external graphics -- are discussed on this page.
Since the definition of the unmarked hopper is an item without external markings, it is difficult to classify these hoppers by a Lionel assigned catalogue number. Most experienced collectors and researchers have tried different approachs in trying to determine a catalogue number for unmarked hoppers. Although various methods have been tried, results remain confusing and contradictory.
We have taken a much different and simpler approach. All unmarked hoppers will be listed here by color -- not by assumed catalogue number.
Features
Standard features of the unmarked hoppers are as follows: molded hopper shell in a single color (either yellow, gray or olive) and no external lettering, logo, decals or number. The most common is the yellow hopper -- while the rarest is the olive hopper.
Beside color, the only other item which varied on the unmarked hopper is the truck combination -- either AAR or arch-bar trucks. The AAR trucks can be either operating, non-operating or one of each type. The arch-bar trucks are always non-operating. In unusual cases the unmarked hopper had one each of the AAR and arch-bar style.
Additional Detail, Photos & Box Information
All unmarked hoppers are approximately 9 1/2" long (coupler to coupler). Trying to identify production years has proven difficult. Although current reference books show production years with the unmarked hoppers, in most cases these appear to be an educated guess by experienced collectors.
Yellow - The easiest to locate.
Gray - Shown in the photo above - A hard variation to locate.
Olive - A rare variation, the hardest to locate.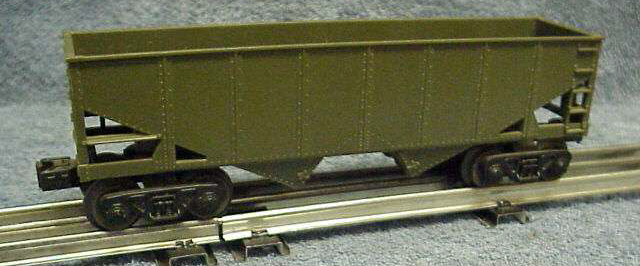 This site brought to you by:

Click on their logo to view high quality postwar Lionel trains for sale