6045 Tank Car (various names)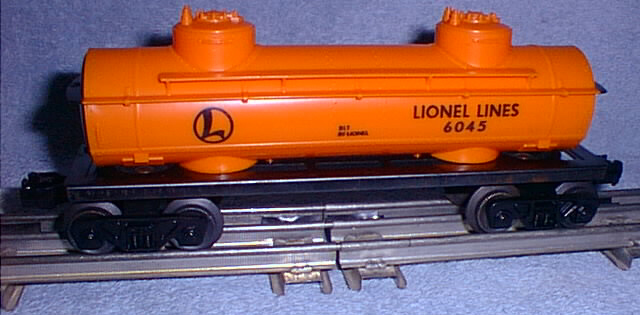 Production: 1959 - 1964
History
The 6045 Lionel Lines tank car is an uncatalogued tank car manufactured between 1959 and 1964. Except for the type of truck and its external number, the 6045 is extremely similar to the 6465 tank car from the same era.
Although the 6045 is an uncatalogued tank car, it is an interesting freight car to collect. There were three variations produced, each having a very different level of collectability in today's market. The Lionel Lines orange version is a very common freight car while the gray version is somewhat hard to find. The most difficult variation to find in collector condition is the green Cities Services version.
Features
Standard features of the 6045 tank car include the following: an unpainted two dome tank car shell, metal frame and arch-bar style trucks with non-operating couplers.
Additional Detail, Photos & Box Information
Lionel Lines Orange Tank Car, Black Lettering - Shown in the photo above - This is the most common 6045 tank car.
Lionel Lines Gray Tank Car, Blue Lettering - This is a harder variation to locate.
Cities Services Green Tank Car, White Lettering - This is the most difficult version to locate as it was produced for only a single year: 1960.
This site brought to you by:

Click on their logo to view high quality postwar Lionel trains for sale