6415 Sunoco Tank Car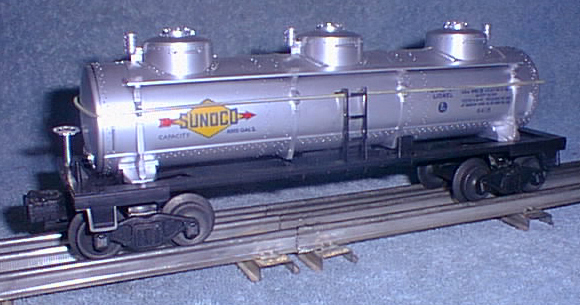 Production: 1953 - 1955 & 1966 - 1966
History
The 6415 Sunoco triple-dome tank car was one of only two triple-dome tankers produced by Lionel in the postwar era -- the other being the 6425 Gulf. Lionels model is a detailed and realistic representation of an actual 70 ton tank car. The 6415 Sunoco tank car is easy to locate and generally reasonably priced when found.
Features
Standard features of the 6415 include: painted silver tank, molded black plastic frame, metal handrails, two metal ladders, brakestand with brakewheel, two operating couplers plus a filler cap next to each dome. The lettering is either blue or black.
The 1953 thru 1955 model was equipped with metal bar-end trucks while the 1964 to 1969 model has plastic AAR trucks. In either case, it always had two operating couplers.
Additional Detail, Photos & Box Information
The filler caps are the most fragile portion of the tank car. It is quite common to find some -- or all -- of the filler caps broken off of the shell.
Additionally, there are several variations to the tank car -- none of which are considered hard-to-find. They include:
Technical Data - The following variations can be located pertaining to the technical data (data printed to the right of each side):
5 lines of technical data.

5 lines of technical data with the word TANK printed below the data.

5 lines of technical data with the number 6415 printed below the data.
Sunoco Decal - The Sunoco decal is available with either '8000 Gallons' or '6600 Gallons' printed below the decal. The '8000 Gallon' version is believed to have been produced first.
Brakestand - The brakestand is either silver or black. The silver version was the first to be produced followed by the black version.
This site brought to you by:

Click on their logo to view high quality postwar Lionel trains for sale