6555 Sunoco Tank Car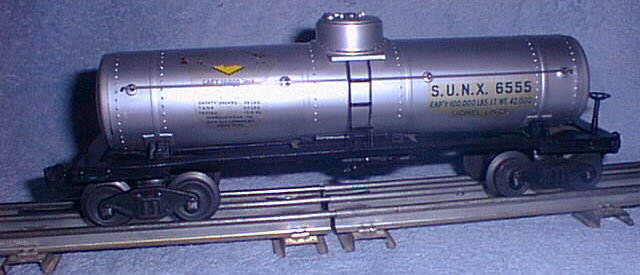 Production: 1949 & 1950
History
The 6555 Sunoco deluxe single-dome tank car was the last of the prewar style tank car produced by Lionel. To this day, its long, all metal construction remains a favorite of collectors and operators. After production of the 6555 ended in 1950, all Lionel tank car shell would be manufactured using a molded plastic shell with a metal frame.
As with many of the large single dome tank cars, the decals are prone to deterioration. Most decals are missing a portion of the original decal. Locating a large tank car with intact decals will be difficult and costly.
Features
Standard features of the 6555 include: painted silver tank, die-cast metal frame, metal handrails, two ladders, brakestand with brakewheel plus a simulated air tank under the frame and placard holder at one end. It usually has the Sunoco decal on the left with the 6555 decal on the right. It always came with staple-end trucks.
Additional Detail, Photos & Box Information
The only minor variations to the tank car are the style of lettering on the Sunoco decal. Earlier production decals (1949??) usually had the words 'Gas' and 'Oil' on the decal. Later production (1950??) eliminated both words from the decal. There is no difference in value between the decals.
Sunoco decal with 'Gas' & 'Oil' - This is assumed to be earlier production from 1949.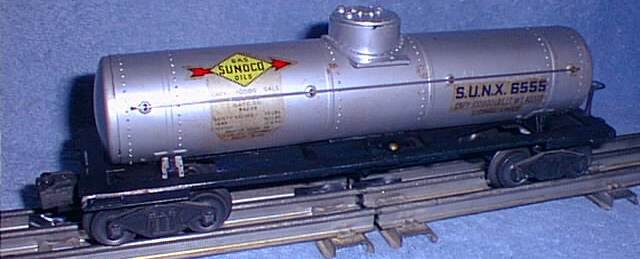 Sunoco decal without 'Gas' & 'Oil' - Shown in the photo at the top of this page Assumed to be the later 1950 production version.
This site brought to you by:

Click on their logo to view high quality postwar Lionel trains for sale