1066 Union Pacific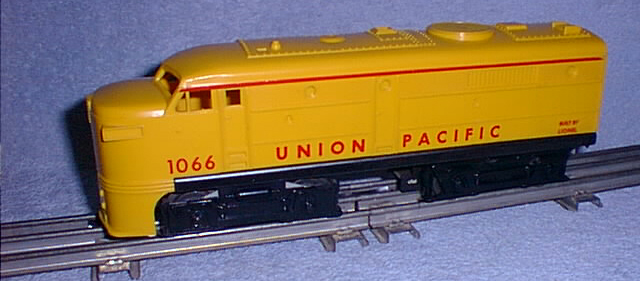 Production: 1964
History
The 1066 Union Pacific Alco A is an uncatalogued diesel from 1964 -- and practically identical to the 1065 Union Pacific of 1961. The difference being the 1066 is noted as having the fewest features of any postwar Lionel Alco diesel. This diesel was available in uncatalogued sets as well as being available as a separate sale item.
Features
Standard features of the 1066 Union Pacific include: yellow unpainted body with red lettering and a red stripe, closed front pilot, single axle drive, traction tire and a dummy rear coupler.
This diesel did not include an E-unit, front coupler, frame box (located between the trucks), interior weight or an ornamental horn. This 'plain Jane' Alco is a forward only diesel whose pulling power is limited to two, possibly three, freight cars.
Additional Detail, Photos & Box Information
The length of this type of Alco is approximately 11" long (front pilot to rear coupler).
Only Known Variation - All 1066's are unpainted yellow with red lettering. Even though the 1066 has the fewest features of any postwar Lionel Alco diesel -- there remains a niche market for Lionel Alcos in collector condition.
This site brought to you by:

Click on their logo to view high quality postwar Lionel trains for sale