2032 Erie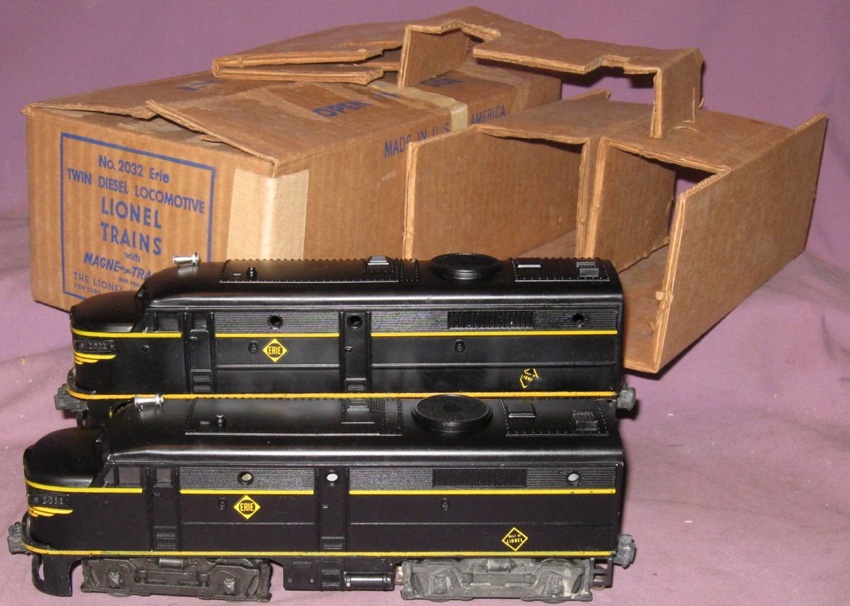 Production: 1952 - 1954
History
The 2032 Erie AA units are part of the early Alco series produced by Lionel in the postwar era. These early Alco diesels -- produced from 1950 until 1954 -- are quality engines with many desired features. The quality and dependability of theses diesel are superb and when properly maintained will run as good today as the day they were made. All early series Alcos remain in demand today.
The 2032 Erie is a rather plain looking diesels produced by Lionel. Its stark black body with an eye-catching red stripe on the side has been copied by many manufacturers since Lionels introduction in 1952. This diesel continues to be a favorite of collectors and operators.
One unusual item of the 2032 Erie diesel is the items' number -- it does not appear on the shell. Rarely did Lionel produce an item without its number printed on the side or bottom. Over the years some individuals have speculated this was one more step of Lionel trying to obtain as much realism as possible with a model train. In the case of the Erie, the number only appears in the illuminated front number boards.
Features
Standard features of the 2032 include: black painted body with two thin yellow painted stripes and two small decals on each side, die-cast frame, two-axle Magnetraction, three-position E-unit, headlight in each unit, horn and operating front couplers on each unit with non-operating rear couplers. Other extras include a silver ornamental horn on each unit, headlight and winshield lens, rear metal step ladders plus illuminated number boards with the number 2032 printed in the lens.
Additional Detail, Photos & Box Information
The 2032 Erie is one of the few items ever produced in the postwar era where the stock number is not printed on the item. The only location where you can find the 2032 number is on the number boards. Additionally, the only box available for the Erie is its master carton -- individual boxes do not exist.
Flat Roof above Motor - Early production, assumed to be 1952. The flat roof versions are slightly harder to locate. Also, these versions have a tendancy to have their roof-line warp due to the heat of the motor.
Dime-Sized Raised Dimple on Roof - Shown in the photo above For 1953 and 1954, Lionel added a slightly raised dimple -- approximately the size of a dime -- to the top of the shell, directly above the motor. The raised dimple significantly reduced the warpage problem commonly seen on the flat roof versions. The raised dimple roof were produced in 1953 and 1954.
This site brought to you by:

Click on their logo to view high quality postwar Lionel trains for sale