204 Santa Fe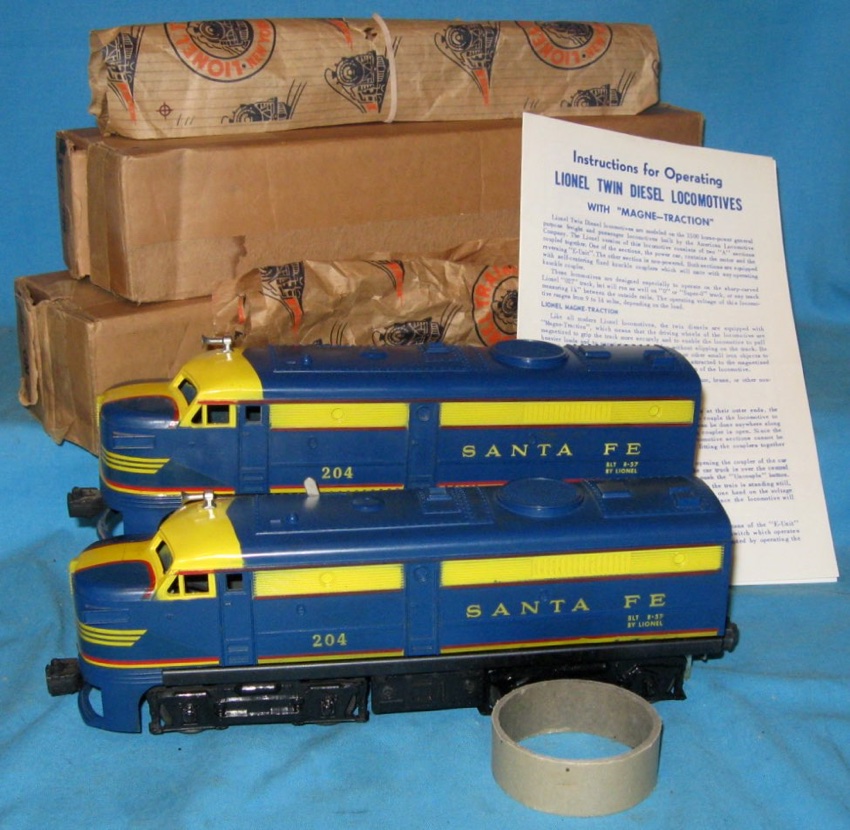 Production: 1957

History
The 204 Santa Fe Alco AA diesel is unique in that it is the only postwar Lionel diesel to wear Santa Fe's freight train colors. Santa Fe's ever-popular red, yellow and silver war-bonnet paint scheme was reserved for passenger train hauling while the blue and yellow Santa Fe's were designated for freight train service.
The 204's were produced in only one year, 1957 and are a hard diesel to find. In almost every case, the front decal is severely cracked or has deteriorated due to age. It is extremely difficult -- almost rare -- to locate a matched set of Santa Fe's with intact front decals.
The 204 Santa Fe is an excellent running locomotive. However, these later-style Alcos clearly lacked the quality, detail and durability of the Lionel Alco diesel produced in the early 1950s.
Features
The 204 Santa Fe included one powered unit and one non-powered unit. Standard features on each unit include: dark-blue painted body with a yellow strip, a wrap-around front decal plus front and rear die-cast non-operating couplers. The powered unit was also equipped with two-axle Magnetraction, three-position E-unit, functional horn plus an operating headlight in each unit.
As with most of the later Alco-series diesels, the front aprons are usually the weak point. They are frequently found cracked, broken or completely missing. Any later series Alco with intact aprons are difficult to locate.
Additional Detail, Photos & Box Information
The length of the 204 Alco units when coupled together is approximately 23" long (coupler to coupler).
Only Known Variation - All 204's are painted dark-blue with a yellow stripe and large decal on the front.
This site brought to you by:

Click on their logo to view high quality postwar Lionel trains for sale