205 Missouri Pacific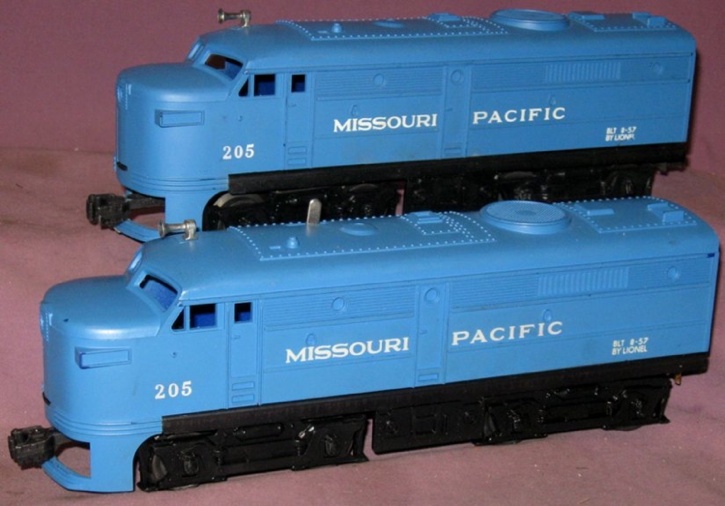 Production: 1957 & 1958
History
1957 was the year Lionel re-introduced the Alco diesel back into their product line. The 205 Missouri Pacific diesels, along with several other locomotives, were part of the all-new, redesigned Alco series. These redesigned diesels of the 1957 through 1960 era were excellent running locomotives, however, they clearly lacked the quality, detail and durability of the earlier Alcos. As Lionel entered the 1960's, they further reduced the quality of these Alco locomotive and many of the post-1960 diesels contained minimal quality and detail.
Features
The 205 Missouri Pacific included one powered unit and one non-powered unit. Standard features of the 205 Missouri Pacific include: blue painted body with white lettering plus front and rear fixed couplers. The powered unit also included two-axle Magnetraction, three-position E-unit plus a headlight.
As with most of the later Alco-series diesels, the front aprons are usually the weak point. They are frequently cracked, broken or completely missing. Lionel did attempt to correct this problem by adding an additional metal support to the interior of the front shell and apron. Although this did help the problem on the 205s, it was not carried forward onto any other Alco diesel. Locating any later series Alcos with intact aprons are difficult.
It is interesting to note, Lionel experimented with a unique variation on the 205 Alco's not seen on any other later Alco locomotive. The variation involved the front apron. Experienced collectors believe early in the production run, Lionel removed the entire front plastic apron. In lieu of the apron, Lionel painted the front metal nose support blue to match the color of the diesel. These early, factory-removed apron diesels with painted metal nose supports are very rare.
Additional Detail, Photos & Box Information
The length of the 205 MP Alco units when coupled together is approximately 23" long (coupler to coupler).
Plastic Front Apron - Shown in the photo above - Most 205s were produced with a plastic front pilot support molded into the shell.
Factory Removed Front Apron - Early production examples had a factory-removed front apron. In lieu of no plastic apron, Lionel included a painted metal nose support. This is a rare variation to locate.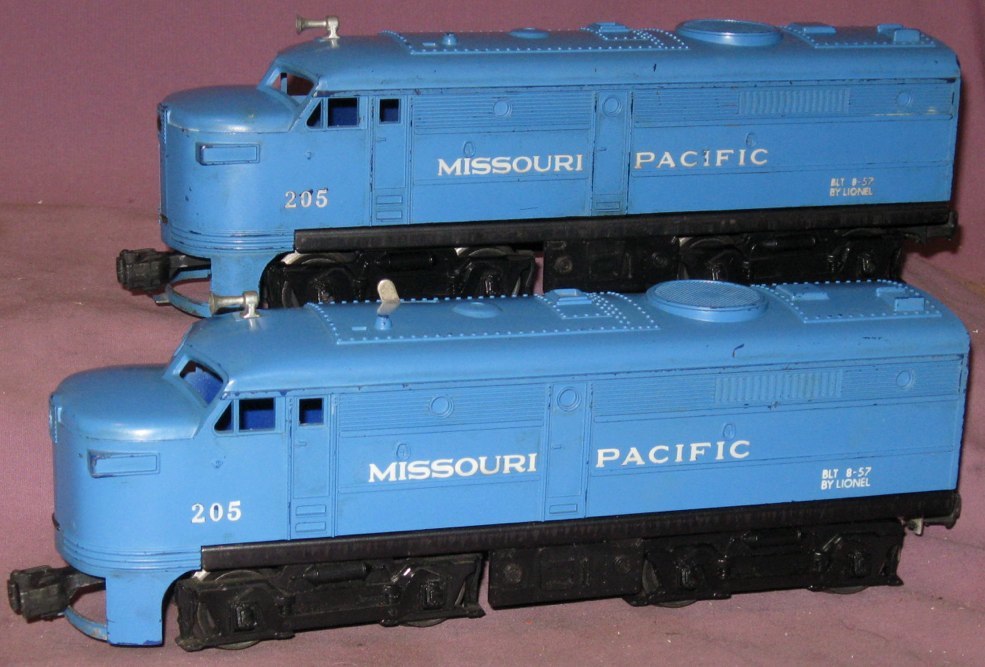 Comparison of Both Aprons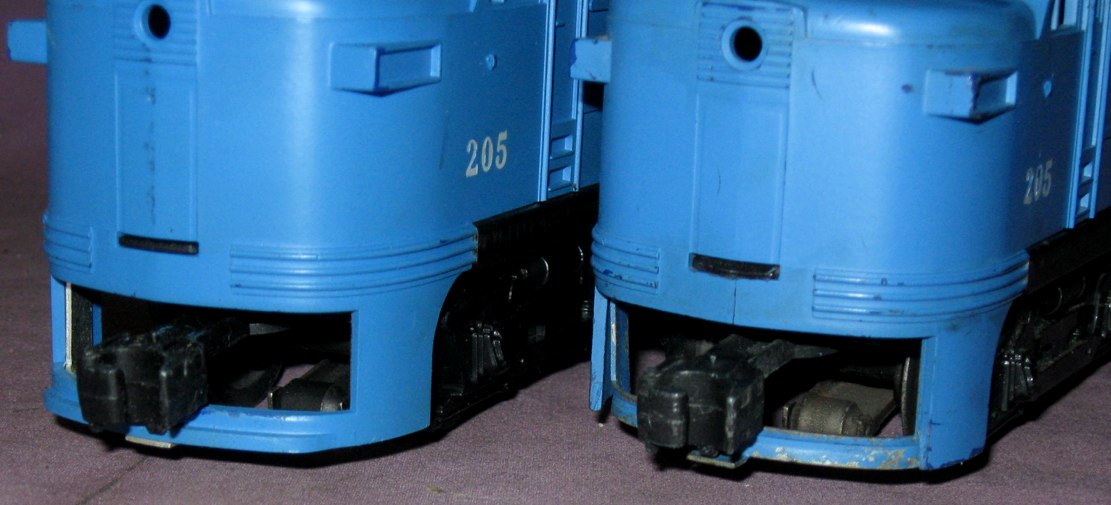 This site brought to you by:

Click on their logo to view high quality postwar Lionel trains for sale