210 Texas Special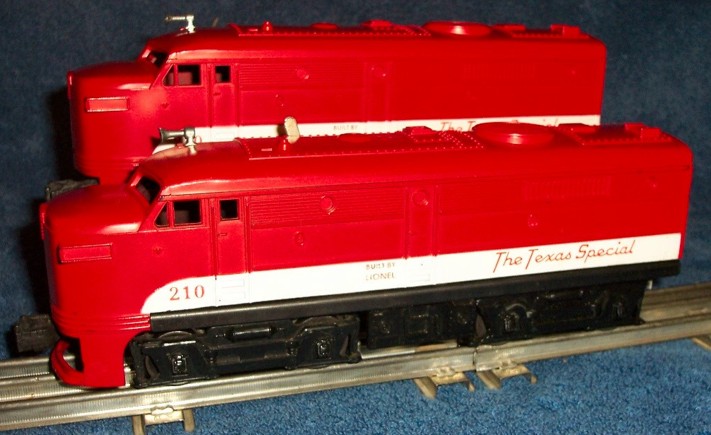 Production: 1958
History
The 210 Texas Special Alco AA units were offered for only a single year -- 1958. Unlike the common 211 Texas Special Alco AA units produced in the 1960's, the 210's are somewhat hard to locate. Collector quality examples with nice boxes are difficult to locate.
As with most of the later Alco series diesels, the front pilot is usually the weak point. These diesels are frequently found with their front apron broken or completely missing. Locating a unit with an intact apron is difficult.
Features
Standard features of the 210 include: painted red and white shell with red lettering, three- position E-unit, two-axle magnetraction, illuminated headlight plus non-operating front & rear die-cast couplers. There is also a decal of a star on the nose of each shell.
Additional Detail, Photos & Box Information
Only Known Variation - All 210's have painted red and white shells with red lettering.
This site brought to you by:

Click on their logo to view high quality postwar Lionel trains for sale