212 Santa Fe or USMC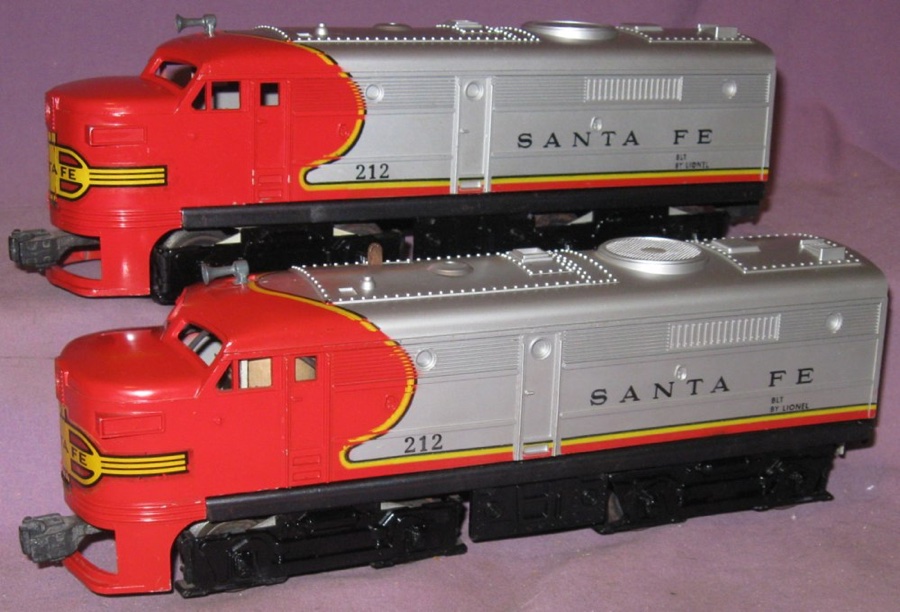 Production: 1958 & 1964 - 1966
History
Lionel catalogued two different Alco 212 diesels. The first is a hard to find United States Marine Corps (USMC) Alco A made in 1958. The second is the more common Santa Fe Alco AA unit made between 1964 and 1966.
The USMC Alco was sold as a single A unit and offered in only one set, # 1591. Its rather drab, dark blue paint scheme was unexciting when introduced and sales were not up to expectations. Although catalogued the following year in 1959, experienced collectors believe this was simply Lionel's attempt to sell excess inventory from 1958. It is doubtful the USMC diesel was produced in 1959. Since then, this version of the 212 has become a collectable and desirable item.
The 212 Santa Fe was quite different when compared to the USMC. It was sold as an AA unit and it's colorful Santa Fe warbonnet paint scheme was an attractive and popular choice. Unlike the USMC, the Santa Fe was included in many freight and passenger car sets.
Features
Standard features of the diesels do slightly differ. First, the 212 USMC included the following: blue painted shell with white lettering, single-axle magnetraction, two position E-unit plus a headlight and single rear dummy coupler.
The Santa Fe included: silver, red and yellow painted shell with a decal on the front nose, traction tires, two position E-unit, horn, interior weight plus both front and rear dummy couplers.
Additional Detail, Photos & Box Information
Santa Fe - Shown in the photo above - No variations, all have the infamous warbonnet paint scheme.
USMC - No variations, all are painted blue with white lettering.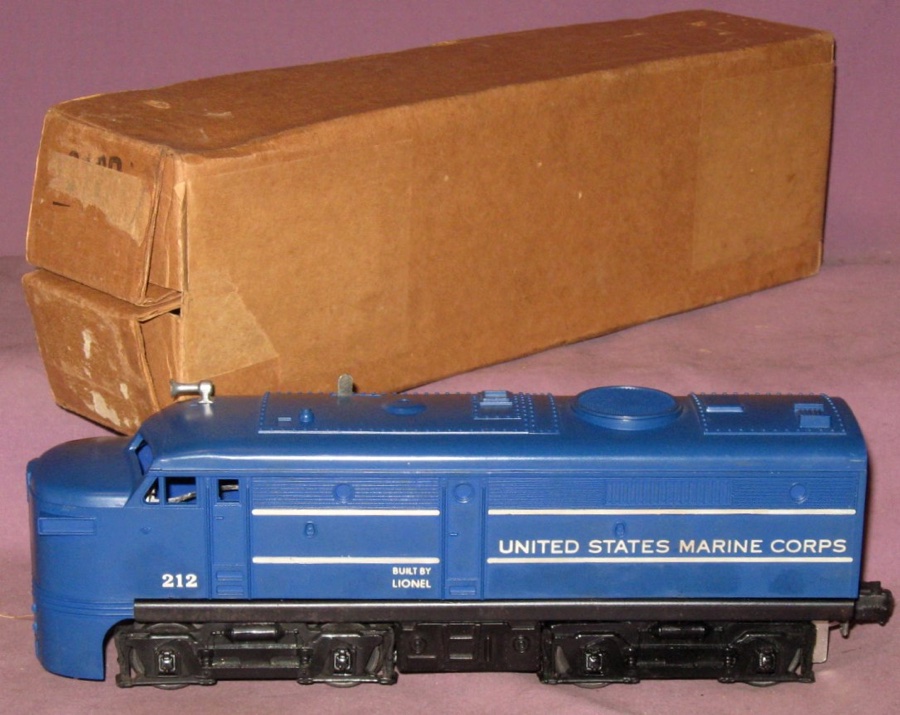 This site brought to you by:

Click on their logo to view high quality postwar Lionel trains for sale