216 Burlington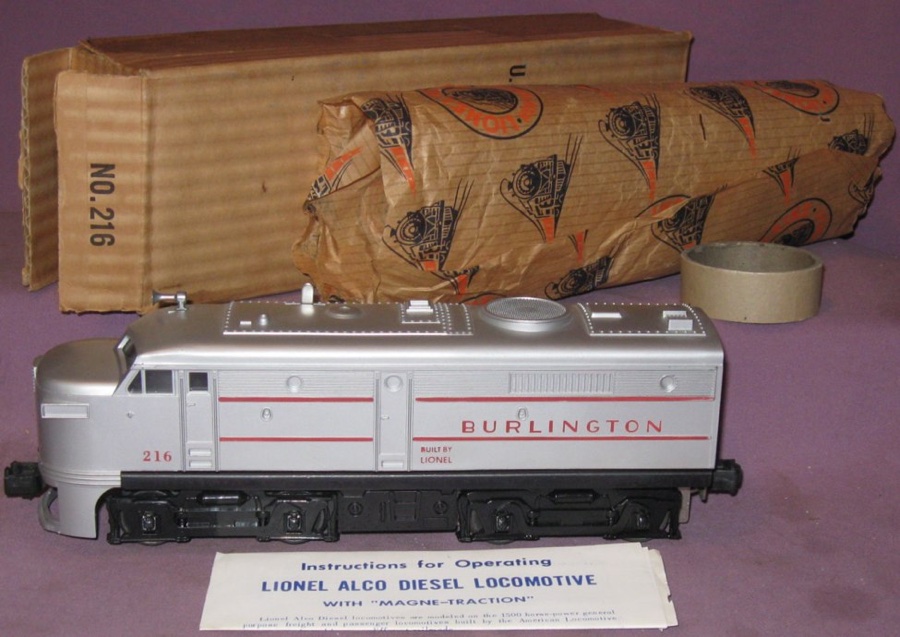 Production: 1958
History
The 216 Burlington Alco A was a one-year-only locomotive, 1958. Like many of the earlier 200-series diesels, it's a reliable and excellent running locomotive. However, when compared to the Alco diesels produced in the early 1950s, it was a step down in quality and durability.
The silver paint on the 216 body has generally tarnished with age. Locating a crisp and clean silver Burlington is not an easy task. Additionally, most of the later Alco diesels have weak front aprons. They are frequently found cracked, broken or completely missing. Any of the later Also units with intact aprons are difficult to locate.
Features
Standard features of the 216 Burlington include: a silver painted shell with red lettering, two-axle Magnetraction, three-position E-unit, fixed front & rear couplers plus a headlight.
Additional Detail, Photos & Box Information
The length of the 216 is approximately 11 1/2" long (coupler to coupler).
Only Known Variation - Shown in the photo above - All 216s are painted silver over a black shell.
This site brought to you by:

Click on their logo to view high quality postwar Lionel trains for sale